North Korean envoys sent to mourn former South Korean leader Kim Dae-Jung called Saturday for an improvement in inter-Korean ties during the highest-level talks between the neighbours in nearly two years.
They also asked for a meeting with conservative President Lee Myung-Bak, Yonhap news agency said, because they were carrying a message from North Korean leader Kim Jong-Il that they wanted to convey.
Relations between the two Koreas, who never signed a peace deal following the 1950-53 Korean War, deteriorated after Lee came to power last year pledging to take a firmer line with Kim Jong-Il and his isolated communist regime.
"While meeting many South Koreans here, I came to believe that inter-Korean ties must be improved at the earliest possible date," said Kim Yang-Gon, the North's official in charge of inter-Korean ties, according to pooled reports.
"We've had little opportunity to talk... I hope that these first high-level official talks under the Lee Myung-Bak administration will provide a chance to have frank talks," he told South Korea's Unification Minister Hyun In-Taek.
The six-member Pyongyang delegation was originally in Seoul only to mourn the death of Kim Dae-Jung, who won the Nobel Peace Prize after he held the first inter-Korean summit in 2000.
However, amid recently improving ties with Seoul and its ally the United States, South Korean officials and the travelling delegation from the North held 90 minutes of talks on Saturday.
Hyun was talking to the president's office about the request to meet Lee, Yonhap quoted an unidentified official as saying, amid reports the Pyongyang delegation had extended their stay by a day to Sunday.
South Korean officials declined to comment on the reports.
The rare encounter Saturday and possible meeting with Lee has raised hopes for better ties on the Korean peninsula after the North's second nuclear test three months ago.
The visiting North Koreans also called for the resumption of regular inter-Korean talks and economic exchanges, said Chung Dong-Young, a former South Korean unification minister.
"Times have changed. Legacies from the Cold War must be buried... I'll meet with everyone for frank talks," Chung quoted the North's chief envoy, Kim Ki-Nam, as saying.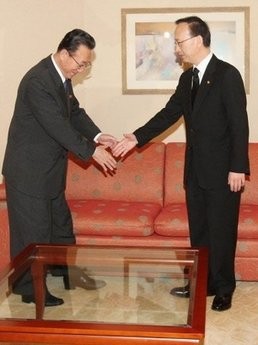 Kim Yang-Gon (left), North Korea's Department Director of the Central Committee of the Workers' Party shakes hands with SKorea's Unification Minister Hyun In-Taek before their meeting in Seoul.
Asked about Kim Jong-Il's health after reports of a stroke last year, envoy Kim reportedly said the North's leader was well enough to make more of his trademark inspection tours to the countryside this year than he was last year.
Former minister Chung, who had breakfast with envoy Kim Ki-Nam, urged the Seoul government to seize the opportunity to mend inter-Korean ties in tribute to former president Kim Dae-Jung, who died Tuesday aged 85.
"Even after his death, President Kim Dae-Jung is laying a bridge over troubled inter-Korean ties," Chung said. "I hope the South Korean government can use this opportunity to mend the South-North relationship."
Kim Dae-Jung pioneered South Korea's "Sunshine" aid and engagement policy with the North, which improved relations but failed to curb its drive for nuclear weapons.
Cross-border and regional tensions rose sharply earlier this year after the North made a series of threats, fired missiles and staged a nuclear test, incurring tougher United Nations sanctions.
But after they arrived Friday in Seoul -- the first such visit by North envoys in two years -- the North Koreans said they were open to dialogue as part of an apparent charm offensive.
Earlier this month, former US president Bill Clinton visited Pyongyang and secured the release of two US journalists sentenced to 12 years' hard labour for straying across the border from China.
The North also on Monday announced its willingness to restart tourist trips and family reunions for South Koreans. It said also that, as of Friday, it was lifting tough restrictions on border crossings imposed last December as ties with Seoul went into deep freeze.
In another indication of a more responsive line, diplomats from the North's United Nations mission held talks this week with New Mexico Governor Bill Richardson.