North Korean leader Kim Jong Il said his country must bolster its armed forces, state media reported Sunday, two days after his regime warned South Korea it was ready to attack if necessary.
In response to media reports that Seoul had recently modified its contingency plans to handle any turmoil in the isolated North, Kim's all-powerful National Defense Commission threatened Friday to retaliate by "blow(ing) up the stronghold of the South Korean authorities." The commission also warned it would break off all dialogue and negotiations with Seoul.
On Sunday, the North's official Korean Central News Agency said Kim had inspected a joint army, navy and air force drill that demonstrated the country's "merciless striking power" against anyone trying to infringe on its territory.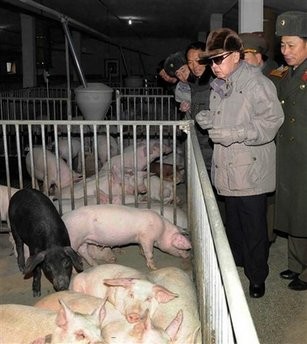 In this undated photo released by Korean Central News Agency via Korea News Service in Tokyo Saturday, Jan. 16, 2010, North Korean leader Kim Jong Il, wearing sunglasses, visits a pig farm under Unit 534 of the Korean People's Army at undisclosed location in North Korea
Kim expressed his satisfaction with the drill and ordered the military to continue to develop its capabilities in order to become "invincible revolutionary armed forces," according to the KCNA report.
The report did not say when or where the joint drill took place.
Kim routinely visits military units and inspects their training. The 1.2 million-member armed forces are the backbone of his authoritarian rule, and he often calls for a stronger military during the visits.
But the report of his latest inspection came just two days after his defense commission issued a rare statement that strongly rebuked Seoul for the contingency plan, which the North says is aimed at toppling Kim's regime.
That warning came as a surprise since the North recently offered conciliatory gestures to the South, including a proposal Thursday to discuss resuming stalled joint tour programs.
Seoul expressed regret over the North's threat, which it said was driven by unconfirmed media reports.
South Korea has also reportedly drawn up a military operations plan with the United States to cope with possible emergencies in North Korea, but South Korea's Defense Ministry has consistently declined to comment about the existence of such a plan.
The two Koreas remain technically at war because their 1950-53 conflict ended in a truce, not a peace treaty, and North Korea occasionally threatens to destroy the South. Authorities in Seoul monitor those warnings carefully but usually take them in stride.
An official from South Korea's Defense Ministry said there had been no suspicious activities by the North's military in recent days.
Another South Korean government official downplayed the significance of the North's latest joint drill, saying it appeared to be part of routine training.
Both officials spoke on condition of anonymity, citing department policy.
A test of the North's intentions regarding negotiations with South Korea could come as early as this week, as the sides had earlier agreed to meet in North Korea on Tuesday to discuss economic cooperation. The Unification Ministry said South Korea has no plan to cancel the meeting.