North Korea will not give up its nuclear arms anytime soon, the chief US envoy to six-nation talks on Pyongyang's atomic programme has said as he arrived for another round of negotiations.
US assistant secretary of state Christopher Hill reiterated that he was only hoping to make a start in convincing North Korea to recommit to a September 2005 deal in which it said it would give up its nuclear arms.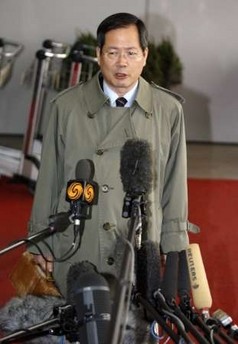 Chun Yung-woo, South Korea 's chief negotiator for the six-party talks, speaks to journalists upon arrival at Beijing airport February 7, 2007
"I want to emphasise the real success will be when we complete the September '05 agreement -- not just when we start (implementing) the '05 agreement, but when we finish it," Hill told reporters at Beijing airport.
"We are not going to finish that this week. Maybe this will be a good first step," Hill said. "We will see how it goes."
The search for a "first step" comes as the on-again, off-again talks -- involving host China, the two Koreas, the United States, Japan and Russia -- approach their fourth year with little sign of progress.
The talks failed to prevent North Korea from conducting its first atomic test in October last year, and the United States has since engaged in unusually direct diplomacy with the Stalinist nation to convince it to disarm.
Rare one-on-one talks between Hill and the North Korean envoy to the talks, Kim Kye-Gwan, in Berlin last month set the stage for the new round of six-party negotiations, which are scheduled to start in the Chinese capital on Thursday.
The Russian, Japanese and South Korean envoys also arrived, or were due to land, in Beijing on Wednesday, with Kim expected to fly in on Thursday morning.
Under the 2005 agreement, North Korea would abandon its nuclear weapons programme in return for security guarantees, energy benefits and other aid.
But it walked out of the talks two months later in protest at unrelated sanctions imposed on it by the United States for alleged money laundering and counterfeiting.
Although the North agreed to another round of six-nation talks in December under international pressure following its atomic test, it has continued to insist that no progress will be made until the sanctions are lifted.
The United States has also remained firm on the sanctions. But Hill said in the lead up to this week's talks that Washington may be prepared to offer economic incentives to begin the process of North Korea disarming.