RIYADH, July 25, 2009 (AFP) - Saudi Arabia is likely to ban the elderly and children from the hajj this year to limit the risk of swine flu, but this will not change country quotas for the pilgrimage, a health official said Saturday.
Dr. Khaled Marghlani, spokesman for the Saudi health ministry, said the government is expected to implement recommendations to block people older than 65 and younger than 12 from the hajj made at Wednesday's emergency Arab health ministers meeting in Cairo.
But national quotas for the annual pilgrimage to the holy cities of Mecca and Medina would not change, he told AFP.
"This will not touch on the quotas, the percentage of pilgrims" allocated each country, he said.
"When we implement the new law, it will stay as it is."
Close to two million people were originally expected to arrive this year for the hajj, a requisite act for Muslims in their lifetime if they have the means.
But the spread of the A(H1NI) flu, with already around 300 cases diagnosed in Saudi Arabia, has worried officials of possible mass outbreaks during the two-week period.
Many people have cancelled plans to undertake the minor pilgrimage, the umrah, which is most popular during the Ramadan period in August-September, tour agents and Mecca hoteliers interviewed by AFP said.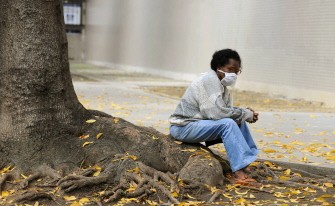 A woman wears a face mask as protection against the influenza A(H1N1) at the Municipal Hospital Souza Aguiar in Brazil's Rio de Janeiro, on July 23, 2009 (AFP photo)