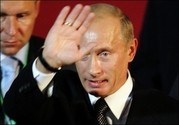 Russian President Vladimir Putin waves upon his arrival in Frankfurt/Main 14 October 2007
There is no indication that Russian President Vladimir Putin will change his plan to visit Iran after reports of a possible assassination bid, his spokesman told reporters in Tehran on Monday.
"For the moment we have no information over a change of plan for the president," spokesman Dmitry Peskov said.
Iran's foreign ministry spokesman Mohammad Ali Hosseini said Putin was due to arrive in Tehran on Monday evening before attending a summit of Caspian Sea heads of state on Tuesday.