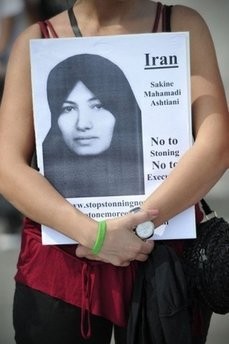 A member of the International Committee Against Stoning holds a placard showing the face of Sakineh Mohammadi-Ashtiani during a protest in London earlier in August. AFP
TEHRAN (AFP) – Iran said on Saturday that it has yet to take a final decision on the stoning of a woman convicted of adultery and complicity in her husband's murder in a case that has sparked an international outcry.
As human rights groups prepared to demonstrate in Paris and France called on the European Union to threaten new sanctions, the foreign ministry said that execution of the sentence has been stayed pending a review by the judiciary.
"In this case, implementation of the sentence has been stayed and is under review by the judiciary," ministry spokesman Ramin Mehmanparast told AFP.
Iranian officials say that Sakineh Mohammadi-Ashtiani, a 43-year-old mother of two, was sentenced to death by stoning after an Iranian court found her guilty of adultery and of being an accomplice in her husband's murder.
Mehmanparast stressed that such severe sentences were never carried out without exhaustive judicial consideration.
"For heavy sentences, we have meticulous and lengthy procedures," he said.
"This verdict is currently being reviewed and when the judiciary arrives at a final conclusion, it will be announced."
Mehmanparast said that Mohammadi-Ashtiani faced two separate sets of charges.
"One concerns her betrayal of her husband and having illicit relations with strangers. On this count, implementation of sentence has been stayed and is under review by the judiciary," he said.
"On the second count, she is accused of being an accomplice in the murder of her husband. That case is in its final proceedings.
"These crimes (adultery and murder) have been proved, but there is no definitive judgement."
In Iran adultery is punishable by death by stoning.
On Friday, France stepped up the diplomatic pressure on Iran over the case by urging the European Union to adopt new sanctions if Mohammadi-Ashtiani is stoned to death.
Foreign Minister Bernard Kouchner wrote to European Union foreign policy chief Catherine Ashton calling for a joint warning to Iran by all 27 member states not to carry out the sentence.
"A joint letter from all EU member states to the Iranian authorities has become necessary, in my view, if we want to save this young woman," Kouchner wrote in a letter to Ashton.
"We must engage the Union in new initiatives to remind Iranian authorities that, just as in the nuclear matter, their isolationist and closed stance will have a cost for them."
Like the United States, the European Union has imposed its own additional sanctions against Iran's controversial nuclear programme over and above the four sets of punitive measures already approved by the United Nations.
In her reply to Kouchner's letter, the EU foreign policy chief said: "The moment has come for the European Union to collectively express its rejection of practices of another age."
Ashton said the EU should draw up "a more efficient strategy than the one we have today" to counter such punishments, which French President Nicolas Sarkozy described as "mediaeval."
Kouchner said Iran should escape new sanctions only if it "chooses a more responsible course that lives up to its international human rights commitments".
Iranian officials have dismissed Western criticism of their handling of the case.
And on Saturday, Mehmanparast again insisted the Iranian judiciary would not "succumb to pressure" from the West.
"The West must know that we cannot release criminals. Imagine if Western countries freed all criminals. There would be no order in society," he said.
"I advise foreign countries to avoid exploiting judicial matters for political ends."
Mehmanparast said that defending the rights of victims required punishment of the guilty.
"I ask them (Western governments) to defend the rights of victims and those who have been betrayed. That is also defending human rights."