LONDON, April 30, 2011 (AFP) - Britain's royal newlyweds will not be going on honeymoon this weekend, their office said Saturday, with Prince William returning to his military duties next week.
William and Kate will spend a private weekend in Britain and take their honeymoon abroad some time in the future, St James's Palace said in a statement.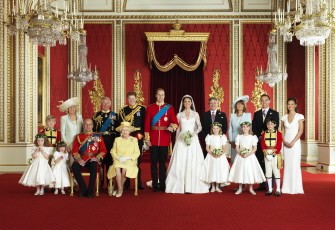 AFP - A handout photo issued by Clarence House of The Royal Wedding Group in the Throne Room at Buckingham Palace in London on April 29, 2011 with Britain's Prince William and Kate
The newly named Duke of Cambridge -- who delights in outfoxing the media -- is to go straight back to work as a full-time Royal Air Force search and rescue pilot, based on the island of Anglesey in northwest Wales.
The couple had been expected to depart immediately for a two-week break, with several foreign destinations mooted.
"The Duke and Duchess of Cambridge have chosen not to depart for a honeymoon immediately," the statement said.
"Instead, after spending the weekend privately in the United Kingdom, the duke will return to work as a search and rescue pilot next week.
"The locations of both their private weekend before the duke returns to work and their future honeymoon, which will be overseas, will not be disclosed in advance.
"The couple have asked that their privacy be respected during the coming weekend and during their honeymoon."
Earlier Saturday, the couple left Buckingham Palace by commercial helicopter, having spent the night at Queen Elizabeth II's official residence in London following a party that went on until 3:00 am.