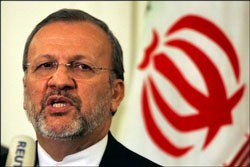 Iranian Foreign Minister Manouchehr Mottaki told journalists in Baku that Tehran had yet to make a decision on a deal offered by Western governments (AFP Photo)
"We express our conviction that the only way to resolve Iran's nuclear issue is to resume negotiations without any preconditions," OIC members said in a document called the Baku Declaration.
They also called for the establishment of a nuclear weapons free zone in the Middle East and for the "prompt placement" of Israel under the control of the UN's International Atomic Energy Agency (IAEA).
"We demand Israel's accession to the NPT (nuclear Non-Proliferation Treaty) without delay and prompt placement of all its nuclear facilities under IAEA comprehensive safeguard systems," it said.
The declaration coincides with US President George W. Bush's visit to Vienna where he is holding talks with European Union countries on a carrot-and-stick package to persuade Iran to give up its nuclear work.
The 57 OIC members expressed concern over what they viewed as "pressure being mounted on Iran and its potential consequences for peace and security in and outside the region," in a separate "final communique" approved on Wednesday.
"We reaffirm the basic and inalienable right of all member states to develop research, production and the use of atomic energy for peaceful purposes in conformity with their respective legal obligations," the Baku Declaration added.
The United States and its partners -- Britain, France, Germany, as well as Russia and China -- have made Iran's suspension of uranium enrichment and reprocessing activities a condition for talks on Tehran's atomic program.
So far Tehran has indicated it rejects that pre-condition.
OIC members said all issues linked to Iran's nuclear program should be resolved "within the IAEA framework", a reference to keeping the dossier from being referred to the UN Security Council, which can impose sanctions.
Source: AFP