SEOUL, April 4, 2009 (AFP) - North Korea kept the world guessing about when it would launch its satellite after the first period of the five-day window it has set aside ended without apparent incident Saturday.
The country last month told world aviation and shipping agencies that it would stage the launch sometime between April 4-8 and between 11:00am and 4:00pm (0200-0700 GMT).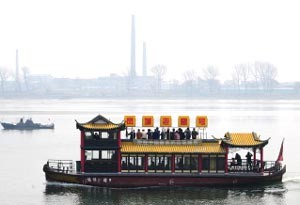 Smokestack chimneys line a hazy riverfront as a North Korean border patrol speedboat anchors in the middle of the Yalu River offshore from the North Korean border town of Siniuju as a Chinese tour boat passes by on April 4, 2009, in Dandong, in northeast China's Liaoning province (AFP photo)
A spokesman for Seoul's Joint Chiefs of Staff told AFP no radar signals had been detected from the Musudan-ri missile base in the northeast as of 4:00pm.
Earlier Saturday the North announced its preparations were complete and it would go ahead "soon." It said the dates and times given earlier were still in effect.
It was impossible to establish why the launch did not go ahead on the first day but Seoul experts said the weather at Musudan-ri was not ideal, with cloud and fairly strong winds.
They said the winds would abate Sunday.
Washington, Seoul and Tokyo see the launch as a disguised missile test and have vowed to report it to the UN Security Council.