PANTUKAN, Philippines, April 24, 2011 (AFP) - Philippine officials said Sunday there was little chance of finding more survivors after a landslide struck a remote gold mining area, with 22 people likely killed in the disaster.
Two days after tonnes of debris and mud washed over makeshift tunnels dug by miners into mountainsides, rescuers pulled out four more bodies and said the 17 people still officially listed as missing were likely to be dead.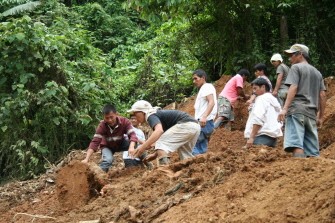 AFP - Philippine rescuers claw through dirt in a search for survivors a day after the landslide buried workers
"Based on our assessment, it would be difficult to find any more survivors on the third day of operations," municipal Mayor Celso Sarenas of Pantukan town told a news conference.
"We will recover all the bodies," the mayor added. One body had been pulled from the rubble on Friday.
The landslide hit Kingking, a remote mountain district near Pantukan on the main southern island of Mindanao before dawn Friday after heavy rain, burying illegal gold mines as well as houses, stores and crude gold processing mills.
Major Jake Obligado, commander of a 120-member military unit that is leading the rescue, told AFP that the chances of any more survivors being plucked out of the debris were minimal.
"Because of the sheer volume of the debris and the clay soil involved that hardens when mixed with rainwater, it would be difficult for anyone to survive underneath," Obligado said.
"The mayor has decided that we will shift to a retrieval operation," the military officer added.
Policemen, resident volunteers as well as personnel sent by nearby mining companies were taking part in the search, Obligado said, adding that rescuers using diggers and bulldozers recovered four bodies Sunday -- raising the confirmed death toll to five.
In all, 13 people were rescued but no one has been found alive beneath the rubble since Friday, he added.
The area can only be reached by off-road motorcycle, said Obligado.
Interior Minister Jesse Robredo on Sunday said government experts would inspect the mine site first before anyone is allowed back in to work after the retrieval operations.
"We will inspect everything just to make sure the tunnels are safe. Those that are deemed unsafe would be closed permanently," he told reporters during a visit to the disaster site.
He said those who insist on mining at areas declared unsafe would be arrested.
"We do not want to ruin their livelihood, but their lives are more important," Robredo added.
Illegal mining operations, with inadequate safety measures, are common in mineral-rich but poverty-stricken Mindanao.
The mayor estimated the area's population at between 20,000 and 30,000 people.
One person was killed and five others were injured in a landslide in the same area last month, while 21 people died when a similar disaster brought on by heavy rains hit the same location in May 2009.