WASHINGTON, Oct 3, 2011 (AFP) - The ultimate lifetime achievement award came days too late for Canadian Ralph Steinman, who was honored Monday with the Nobel Prize for Medicine for his groundbreaking work on the immune system.
The 68-year-old cell biologist's own discoveries helped extend his life but he died Friday after a four-year battle with pancreatic cancer, his daughter told AFP.
"We said to him, 'Hang on until Monday,'" said Alexis Steinman, 34. "We joked, we said, 'You know you got to keep going until the Nobel.'"
She said the family was only alerted to Steinman's win when her mother discovered an email on his cell phone, which had been "turned to silent."
His hopes were raised a few years ago when he heard he was on the short list for the Nobel Prize. He did not win that year, she recalled, but the family has considered the possibility every year since.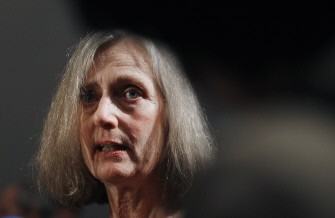 AFP - Claudia Steinman, wife of deceased 2011 Nobel Prize in medicine winner Ralph Steinman, speaks at a press conference at Rockefeller University on October 3, 2011 in New York City.
Steinman shared the award with Bruce Beutler of the United States and Luxembourg-born Jules Hoffmann, a naturalized French citizen, for their work on the body's complex defense system in which signaling molecules unleash antibodies and killer cells to respond to invading microbes.
"The news is bittersweet, as we also learned this morning from Ralph's family that he passed a few days ago after a long battle with cancer. Our thoughts are with Ralph's wife, children and family," said Marc Tessier-Lavigne, president of the New York-based Rockefeller University where he worked.
The university said in a statement it was also "delighted" to learn of the Nobel honor, and added Steinman's "life was extended using a dendritic cell-based immunotherapy of his own design."
The Nobel committee in Stockholm, Sweden said it would stand by the award, even though it is typically not given out posthumously.
"We just got the information. What we can do now is only to regret that he could not experience the joy," Goeran Hansson, the head of the Nobel assembly at Karolinska Institutet, was quoted as saying by the Swedish news agency TT.
According to the committee's rules, "work produced by a person since deceased shall not be considered for an award. If, however, a prizewinner dies before he has received the prize, then the prize may be presented."
Steinman was born in Montreal, Canada on January 14, 1943, and earned his medical degree from Harvard University in 1968.
He and his collaborator Zanvil Cohn discovered in 1973 a new cell type called the dendritic cell.
Steinman "speculated that it could be important in the immune system and went on to test whether dendritic cells could activate T cells, a cell type that has a key role in adaptive immunity," said the Nobel committee.
"These findings were initially met with skepticism but subsequent work by Steinman demonstrated that dendritic cells have a unique capacity to activate T cells."
Tessier-Lavigne said his research "laid the foundation for numerous discoveries in the critically important field of immunology, and it has led to innovative new approaches in how we treat cancer, infectious diseases and disorders of the immune system."
Steinman began work at Rockefeller University in 1970 as a postdoctoral fellow and was named director of the Christopher Browne Center for Immunology and Immune Diseases in 1998.
He received a host of honors during his life, including the 2007 Lasker Award for Basic Medical Research and the 2009 Albany Medical Center Prize in Medicine and Biomedical Research, which he shared with Beutler.
"I think it is a great tragedy that he didn't live quite long enough to know that he had won the Nobel Prize," Beutler told AFP.
"He had received many other prestigious awards," he added. "He knew he was in line for it (a Nobel), that's for sure."
Steinman's daughter, Alexis, said the family was moved by the news of the prestigious prize.
"He was always hopeful... but he was a very humble man. He said, 'There are all these great scientists out there, they will pick some one else," she told AFP.
"He was sick and he thought that his time had passed."