Nobel Peace Laureate Muhammad Yunus calls the global economic crisis "an excellent opportunity to reflect and redesign" businesses, and devote creative ones to solving social problems.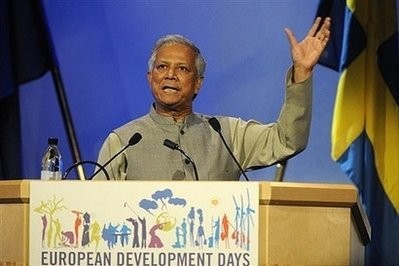 2006 Nobel Peace Bangladesh's Muhammad Yunus gives a speech before the plenary Session of the 4th European Developpment Days meeting in Stockholm in October 2009. (AFP Photo)
Yunus, who with his Grameen Bank -- which gives tiny loans to the very poor to help start businesses -- won the 2006 Peace Prize, told media here on Saturday: "Any problem has a potential of being addressed with a social business."
"Social business being a business where you don't make money," he explained. "Zero profit for the investors."
The ground-breaking "microcredit" banker from Bangladesh is backed by corporations like food giant Danone, global water group Veolia, sportswear company Adidas, software pioneer SAP and academics at Kyushu University in Japan.
The first Global Grameen Meeting of companies, foundations, think-tanks, scientific experts and other institutions was hosted by Europe's largest carmaker Volkswagen at its headquarters in Wolfsburg, northern Germany.
Grameen is a Bengali word for village, and "was chosen to indicate that big projects may start small," a statement said.
The forum's ambitious goal is to eliminate poverty by 2030 in both the developing world and advanced economies.
Ideas that sprouted on the Indian sub-continent are being transplanted in Germany, Europe's biggest economy, and in France, where Danone will draw on its experience with Yunus in Bangladesh to launch a project for the poor in Paris.
"It's really a source of inspiration," Danone representative Emmanuel Faber told a press conference in the company of Yunus and the other groups.
He underscored the "new processes, new ideas, new ways of working that social business has driven into the mainstream way of Danone doing business."
The big group's have not decided to ditch profits altogether but are setting up subsidiaries to work on the social business model in addressing problems with the environment, health care, nutrition and unemployment.
"Each one is dedicated to solving a particular social problem," Yunus said.
Hans Reitz, co-founder with Yunus and director of the Grameen Creative Lab that brought together varied sectors to brainstorm for solutions, said his group would launch seven small companies in Germany with no more than five to seven employees.
"You can start small and give it a try, find out if it works or if it doesn't work," he said, and share the results across what Faber said was now "a global network of people thinking along these lines."
Faber quoted Danone founder Antoine Riboud as stressing "there could not be long-term wealth creation without social progress."
Peter Graf of SAP warned meanwhile that if they failed to act on global issues, there was "a danger of companies losing their social license to do business."
He called the threat "hugely underestimated as the public gets more and more aware of the crises that we are facing."
Danone plans to launch a project to have 300 people deliver fresh dairy products to Paris area shops on electric-powered tricycles.
The drivers would be ex-convicts or others faced with marginal living situations and the plan would cut carbon dioxide emissions from delivery vans withdrawn from circulation, he said.
In Germany, Reitz is experimenting with business loans to 15-year-old school children to show them they could later be self-employed.
Making cakes, candles and music CDs allowed German and immigrant youth to "start a small business and create an identity," he said.
"You can create a job for others, you don't have to wait to have a job," Reitz stressed as the eurozone struggles to reduce chronic unemployment.
Yunus believes social businesses can unite public sector and charity goals with the dynamics of an enterprise.
"If you can design businesses, bring the power of business, and the technology of businesses and the creativity of businesses to bear on a problem, maybe we can solve it," he said.