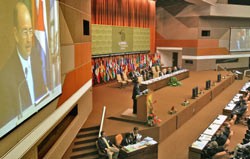 Cuban vice President Carlos Lage delivers a speech, September 13, 2006 in Havana during the inauguration of the Foreign Ministers meeting within the framework of the XIV Non-Aligned Movement Summit (AFP Photo)
The Non-Aligned Movement demanded at a summit in Havana Wednesday that Israel withdraw its troops from Gaza, release jailed Palestinian officials and repair damage caused by its military operations.
A draft declaration to be adopted by leaders of the NAM countries also expresses "grave concern about the deterioration of the situation ... in the occupied Palestinian territory, including East Jerusalem, as a result of the unlawful policies and practices being carried out by Israel."
Ministers preparing the full summit, which starts on Friday, agreed late Wednesday on a document that condemned Israel for what they called "the continuing killing and injury of Palestinian civilians by excessive and indiscriminate force, targeted attacks and extrajudicial executions."
They also called "for the withdrawal of the Israeli occupation forces from within the Gaza Strip, for Israel to fulfill its responsibility to repair damage caused to the infrastructure in the Gaza Strip and for the immediate release of all Palestinian officials detained by Israel."
The statement also criticized the decision by some countries to suspend aid to the Palestinian territories following the January election of Hamas, which the US government considers a terrorist organization.
The NAM "firmly rejected the collective punishment of the Palestinian people for the democratic election of their representatives."
It also urged its members "to extend, on an urgent basis, economic and financial assistance to the Palestinian people to ease the current financial and humanitarian crisis."
The NAM represents 118 developing countries.
Source: AFP