ASEAN can achieve even more integration despite its emphasis on non-interference, Dr. Surin Pitsuwan, the bloc's secretary-general said last week at a press conference on its 41st founding anniversary.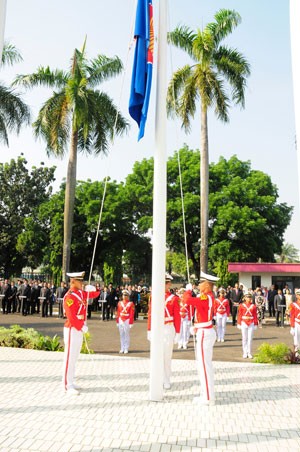 The ASEAN flag hoisting ceremony on the 41st founding anniversary is held in Jakarta on August 8, 2008. (Photo: Courtesy of the ASEAN Secretariat)
Non-interference, one of the precepts countries insisted upon when they signed the Declaration of the ASEAN in Bangkok in 1967, is still a cherished and fundamental aspect of the ASEAN Charter.

"Non-interference... however goes together with the new concept of Responsibility to Protect (R2P)," Dr. Pitsuwan said.

"The non-interference is a problem of the ASEAN but the ASEAN can accomplish the concept of R2P to protect citizens in a country from mass atrocity crimes", he added.

The principle of non-interference has been in the public eye recently because of the dispute between Cambodia and Thailand over Preah Vihear Temple. ASEAN cannot intervene though Cambodia called for mediation because Thailand has said it is a bilateral matter.

The non-interference principle has come under criticism from the west which is urging the bloc to move towards a principle of "constructive intervention" or at least be less rigid over the principle.

But ASEAN member-countries have rejected this, saying the bloc has been dealing effectively with regional issues.

The Responsibility to Protect populations from genocide, ethnic cleansing, war crimes and crimes against humanity is an international commitment by governments to prevent and react to grave crises, wherever they may occur.