North Korea accused a South Korean fishing boat of illegally entering its waters and said Saturday an investigation of four seized fishermen was under way.
South Korea has urged their quick release, saying the 29-ton vessel accidentally drifted across the sea border Thursday after its satellite navigation system apparently malfunctioned.
North Korean soldiers towed the vessel to the eastern port of Jangjon, just north of the border, South Korean officials said.
A North Korean patrol ship "captured one ship of South Korea on July 30 when it illegally intruded deep" into the North's territorial waters, Pyongyang's official Korean Central News Agency reported Saturday.
An investigation into the incident was being carried out, the report said. The brief dispatch did not give any word on the fishermen's condition or say how long the probe would last.
North Korea's military said Friday in a written message to the South that "the issue of crew members and the vessel will be dealt with according to the outcome of the investigation," according to the Unification Ministry.
"North Korea appears unlikely to send them back to South Korea in the next few days, but it is not an issue that could be prolonged," said Kim Yong-hyun, a North Korean expert at Seoul's Dongguk University.
The wife of the boat's skipper, Park Kwang-sun, told The Associated Press she hoped the release would be imminent.
"I wish my husband will quickly return home," Park's wife Lee Ah-na said from the eastern port of Geojin, just south of the border.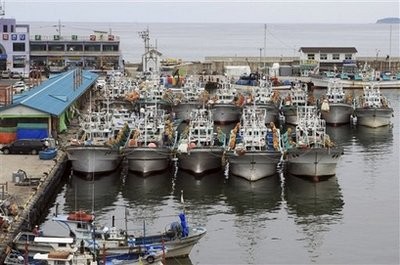 South Korean fishing boats are anchored at Geojin port in Goseong, South Korea, Friday, July 31, 2009
Maritime incidents involving fishing boats and other commercial vessels occur from time to time. While most are resolved amicably, two skirmishes involving military ships twice have sparked deadly naval battles, in 1999 and 2002.
North Korea, censured by the U.N. Security Council for a spate of nuclear and missile tests his year, has custody of a South Korean employee of the two Koreas' joint industrial park in the border town of Kaesong, in addition to two American journalists sentenced in June to 12 years of hard labor.
The two Koreas technically remain at war because their three-year conflict ended in a truce in 1953, not a peace treaty. Their relations have been tense since a pro-U.S., conservative government took office in Seoul last year advocating a tougher policy on the North.
Pyongyang cut off nearly all ties in retaliation, and halted major joint projects except for an industrial complex located just across the border in the North.