North Korea may be considering additional attacks and provocations, a top U.S. general told Congress on Wednesday, adding Washington needed to be prepared to respond appropriately if necessary.
"I do worry that there are additional attacks and provocations that are being considered within North Korea," said the commander of U.S. forces in South Korea, General Walter Sharp.
Tensions with North Korea rose to their highest since the 1950-53 Korean War after last year's sinking of a South Korean warship and the bombarding a South Korean island in the sea off the peninsula's west coast.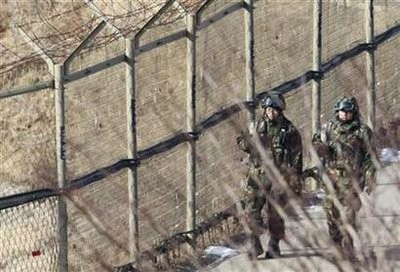 South Korean soldiers patrol along the fence near the demilitarised zone separating the two Koreas in Paju, north of Seoul, December 18, 2010
Those attacks killed more than 50 South Koreans.
Pyongyang denies any involvement in the sinking and accuses Seoul of goading it into launching the later artillery attack -- claims dismissed by Seoul and the United States.
Sharp, testifying before the House of Representatives Armed Services Committee, renewed U.S. concerns that last year's attacks may be only a sign of things to come, especially as ailing North Korea leader Kim Jong-il prepares his son Kim Jong-un for succession.
"There are some real challenges from North Korea that we need to be prepared to deter, and if deterrence does not work, be prepared to respond to," Sharp said, without predicting what kind of response might be necessary.
U.S. deterrence strategy has included stepping up joint military exercises with South Korea. Washington has also pressed China, North Korea's closest ally, to lean on Pyongyang to avoid additional provocations.