A top North Korean diplomat repeated an offer for international talks over his country's disputed nuclear program during a meeting in China on Wednesday, saying the denuclearization of the peninsula was the "dying wish" of North Korea's founder.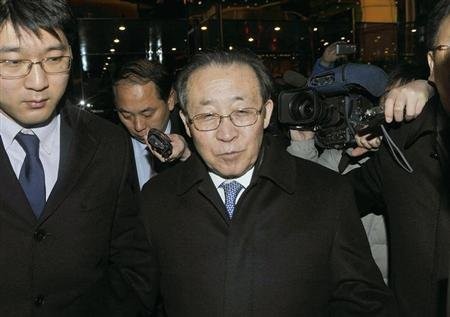 North Korea's First Vice Foreign Minister and envoy to the six-party talks Kim Kye-gwan (2nd L) enters a hotel after a meeting with U.S. Special Representative for North Korea Glyn Davies in Beijing in this photo taken by Kyodo on February 23, 2012
The Beijing trip by First Vice Foreign Minister Kim Kye-gwan comes just days after North Korea offered talks with the United States to ease tension that spiked this year when the North threatened the United States and South Korea with nuclear war.
The White House said any talks must involve action by the North to show it is moving towards disarmament.
China's Foreign Ministry, after Kim's talks with Chinese Vice Foreign Minister Zhang Yesui, cited the North Korean, who has previously represented his country at talks to get it to halt its nuclear program, as saying North Korea wanted talks.
"The denuclearization of the Korean peninsula was the dying wish of Chairman Kim Il-sung and General Secretary Kim Jong-il," the Chinese ministry said in statement, citing Kim as saying.
Kim Il-sung founded the country. His son Kim Jong-il, who died in 2011, oversaw North Korea's first two nuclear tests. North Korea conducted a third test in February.
"North Korea is willing to have dialogue with all sides and attend any kind of meeting, including six-party talks, and hopes to peacefully resolve the nuclear issue via negotiation," Kim Kye-gwan was cited as saying.
Zhang, for his part, said that talks, stability and the denuclearization of the Korean peninsula were in everyone's best interests, China's Foreign Ministry added.
"China supports talks between the various parties and hopes for an early resumption of the six-party talks," Zhang said.
China has repeatedly urged North Korea to return to so-called six-party talks that aimed to get the North to halt its nuclear program.
In 2009, North Korea said it would never return to those talks. The four other participants in the negotiations were South Korea, the United States, Japan and Russia.
The White House said any talks must involve action by North Korea to show it is moving towards disarmament.
North Korea was looking for holes in the international consensus that it must denuclearize by seeking dialogue with various countries, said Wang Dong, an international relations professor at Peking University in Beijing.
"If China's stance is still firm, North Korea will understand that there are no loopholes to exploit," Wang said.
"You can't have your cake and eat it too. I think China will make this clear to North Korea," he said, referring to Pyongyang's refusal to give up its nuclear weapons while at the same time trying to mend ties with key powers.
"TREASURED SWORD"
The talks are the highest-level contact between China and North Korea since U.S. President Barack Obama and Chinese President Xi Jinping met in California in early June and agreed that North Korea had to denuclearize.
North Korea has repeatedly said it will never abandon its nuclear weapons, calling them its "treasured sword", a term one of its official newspapers used again on Wednesday.
Late last month, North Korean leader Kim Jong-un sent another envoy to Beijing. According to a source with knowledge of that visit, Chinese officials gave the envoy a lukewarm reception while saying Beijing wanted an end to the North's nuclear and missile tests.
Li Bin, a nuclear policy expert at the Carnegie-Tsinghua Centre for Global Policy in Beijing, said he did not believe North Korea was ready to discuss its nuclear program with China.
"But now they see that China is very serious with sanctions and is very angry. My guess is that they are coming to Beijing to avoid a situation in which the relationship between the two countries gets worse," he said.
China, the closest thing Pyongyang has to a major ally, backed the latest round of U.N. sanctions on North Korea, imposed for its February 12. nuclear test. Some Chinese banks have also curtailed ties to their North Korean counterparts in the wake of a U.S. crackdown on the North's finances.
Next week, South Korea's President Park Geun-hye visits China, where North Korea is likely to be high on the agenda.
Washington has been skeptical of any move by Pyongyang towards dialogue as it has repeatedly backtracked on deals, most recently in 2012, when it agreed to a missile and nuclear test moratorium only to fire a rocket a few weeks later.