A high-level North Korean delegation was due Friday in South Korea to join in national mourning for former president Kim Dae-Jung, the latest sign of easing relations after months of high tensions.
Pyongyang also announced it is lifting tough restrictions on border crossings imposed last December as ties with Seoul went into deep freeze.
The six-strong team, including two close aides to leader Kim Jong-Il, was due to arrive in mid-afternoon and visit a mourning altar for Kim soon afterwards.
Kim, a former leading democracy activist, held the first-ever inter-Korean summit in 2000 during his 1998-2003 presidency.
He pioneered a "Sunshine" aid and engagement policy with the North which improved relations but failed to curb its drive for nuclear weapons.
The visit provides an opportunity for dialogue with Seoul's conservative government, which enraged Pyongyang last year by ending the "sunshine" era and linking economic aid to nuclear disarmament.
Seoul's unification ministry said Friday the North had not asked for any meeting and "as of now" there was no plan for one.
It welcomed the decision to ease curbs on border crossings and on the number of South Koreans staying at a joint industrial estate in the North, but urged the North not to repeat unilateral actions which damaged relations.
Cross-border and regional tensions rose sharply in recent months after the North made threatening gestures to the South, fired a series of missiles and staged a second nuclear test which brought tougher United Nations sanctions.
As Washington works to enforce the sanctions, Pyongyang this month has attempted to mend fences both with the United States and US ally South Korea.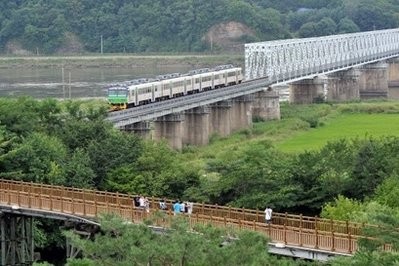 A South Korean train passes over a cross-border railway bridge near the Demilitarized zone (DMZ) in Paju, north of Seoul
Kim Jong-Il pardoned two American journalists after former president Bill Clinton flew to Pyongyang. The North freed a detained South Korean and on Monday it announced willingness to restart tourist trips and family reunions for South Koreans.
Diplomats from the North's United Nations mission held talks this week with New Mexico Governor Bill Richardson, a veteran troubleshooter with Pyongyang.
Richardson said they indicated they wanted a new dialogue with the United States about the nuclear standoff. But they rejected a return to a six-nation nuclear disarmament forum which Pyongyang quit on April.
The US government reaffirmed Thursday it is open to bilateral talks but only within the six-nation framework.
US and South Korean officials believe this year's bellicose moves were a show of strength by the ailing Kim, 67, as he tried to win support for a succession plan reportedly involving his youngest son.
Kim "is regaining his health and feeling more confident about the succession process, and trying to avoid the consequences of sanctions with an olive branch to South Korea to get aid flowing again," said Peter Beck, a Korea expert at the American University in Washington.
South Korea previously shipped around 500,000 tons of rice and 300,000 tons of fertiliser to its neighbour, which suffers persistent serious food shortages.
Shipments ended under the current conservative government. Beck said the North would have to resume government-to-government contacts with the South to get them flowing again.
The North's team is headed by Kim Ki-Nam, a secretary of the ruling communist party. It also includes Kim Yang-Gon, a party official in charge of inter-Korean affairs, but the team will not stay on for Sunday's state funeral.
Some 100,000 people have visited 175 mourning altars nationwide for Kim Dae-Jung, who died Tuesday aged 85.
President Lee Myung-bak paid his respects Friday at an altar set up at parliament. The funeral will be held there to emphasise Kim's contribution in bringing democracy to the country.