Columns of fighters loyal to Libya's new leaders surged into Moamer Kadhafi's hometown Sirte on Friday, sparking battles with loyalists in three sectors, including at the airport, commanders said.
Backed by tanks, they launched the assault late morning on Sirte, 360 kilometres (225 miles) west of Tripoli, after a first attack the previous day was repulsed by loyalists, who set up sniper nests on rooftops.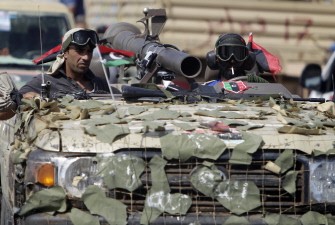 Anti-Moamer Kadhafi fighters drive their armoured vehicle into the desert city of Bani Walid, southeast of Tripoli on September 16, 2011, as National Transitional Council (NTC) forces thrust deep into the area, one of two of fugitive Moamer Kadhafi's few remaining bastions.
An AFP reporter witnessed heavy fighting at the airport and two kilometres (about a mile) southeast of the city centre.
NTC forces were firing anti-aircraft guns and heavy cannon within the city limits and Kadhafi forces responding with sniper fire and Grad rockets.
Senior military commander Salem Jeah told AFP that NTC forces were nearing the centre of Sirte, with the AFP reporter saying the front line was about one kilometre away.
"We are advancing in from the west and the south towards the city centre," he said by telephone. "Our forces retreated strategically during the night but are now speeding towards the centre and some have already entered."
Field commander Hadi Saleq of the Karama (Generosity) Brigade, who has 160 men under his command and has roots in Sirte, reported skirmishes on three fronts.
"The fighting is concentrated on September 1 Street, residential zone 2 in the city centre and around the airport," Saleq said.
There were no overall casualty figures on Friday's fighting, but medics at a hospital east of Sirte where people were being taken said there were at least three dead and 15 wounded among the NTC fighters.
But Dr Mohammed Saleh told AFP some patients were sent to Misrata.
"Today we saw more gunshot wounds" than from shrapnel, a sign of more close-quarter fighting.
Earlier, emergency worker Mohammed al-Ashraf said 10 NTC fighters were wounded on Friday and one killed in September 1 Street, Al-Zafraan district, where the AFP reporter witnessed heavy fighting.
"There's a building ahead that just won't surrender," said one fighter, Walid Ismail.
Amid the gunfire, medics in one street were seen treating a man with a shrapnel wound to the leg.
At least 200 NTC pick-up trucks fanned out from a roundabout on the street firing heavy weapons to clear the area of Kadhafi fighters amid incoming sniper fire and sporadic rocket attacks.
Ironically, resident and university student Abdel al-Mutaly told the reporter it was not until Friday that he had learned Tripoli had fallen to the NTC on August 23.
He said there has been no electricity for a month "so people were completely in the dark about what was going on outside" Sirte.
"There is no food, no money, no petrol, no information in Sirte. How could I have known they had taken Tripoli?"
Mutaly said he had a weapon but had immediately surrendered it to NTC forces and was not arrested.
"We stayed at home hearing the gunfire. A shell hit our home and I put down my weapon. I had no other thought than to get my family to safety."
Field commander Saleq said they hoped that by the end of the day all of Sirte would be under their control.
"We will rename September 1 Street as February 17 Street" after the start date of the revolution , Saleq said.
Among the debris of war lining the road to the airport in the west of Sirte were the burnt-out husks of four armoured cars, apparently hit by NATO air strikes.
The fighters had earlier regrouped at Hassan, some 60 kilometres (35 miles) west of Sirte, to prepare for the assault.
There were dozens of pick-ups bristling with anti-aircraft guns and some with cannon, along with many trucks, some laden with ammunition.
A convoy of battle-hardened fighters had set out from the port city of Misrata, some 150 kilometres (93 miles) west of Sirte, early Thursday before splitting at the crossroads town of Abu Qurin for a three-pronged attack on Sirte.
The military council said the convoy of more than 900 armoured cars aimed at "freeing the city and raising the banner of independence."
At the so-called Gate 50 checkpoint, 50 kilometres west of Sirte, an AFP correspondent on Friday saw NTC forces burying the bodies of four people they said were pro-Kadhafi fighters killed in a NATO air strike on Thursday.
A blackened four-wheel-drive vehicle that had been pulverised was to one side of the road, and some 20 metres (yards) away the fighters were burying the bodies wrapped in blankets