Forces from Libya's new regime launched a fierce assault on two areas of Moamer Kadhafi's hometown of Sirte on Friday, as their comrades clashed with supporters of the fallen strongman in the capital.
The latest offensive in Sirte, aimed at mopping up remaining pockets of stiff resistance, came a day after National Transitional Council (NTC) combatants were forced to withdraw under a hail of withering sniper fire.
At least four people were killed and 46 wounded in Friday's fighting, said Abdulsalam Abdelkani, a medic at a field hospital in eastern Sirte. "All the injuries are sniper shots and bullet wounds."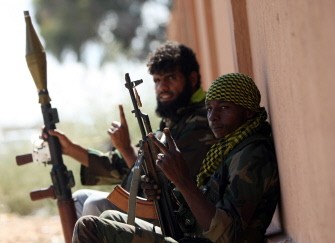 Libyan National Transitional Council (NTC) fighters are pictured in the city of Sirte on October 14, 2011
An AFP correspondent said shortly before 1:00 pm (1100 GMT), a large column of NTC forces, some in trucks and some on foot, pushed out of the central police HQ towards loyalist positions in the Dollar and Number Two districts.
Huge plumes of thick black smoke billowed above both neighbourhoods amid an intense grenade and mortar bombardment and almost continuous machinegun fire.
NTC fighters opened up with 130 mm cannons, after their troops eased back to allow for the bombardment.
"We shelled the two areas for six hours. Our scouting teams had identified targets," said Colonel Tawfiq al-Jazwim, supervising the attack on the Dollar and Number Two districts.
"We fired dozens of Grad rockets and some artillery shells. There has been no similar response incoming. We've stopped the shelling for the evening. If required, we will start again tomorrow," he said.
NTC scouts had earlier probed loyalist defences, advancing as far as two kilometres (just over a mile) west from the central police headquarters before pulling back.
New regime troops seized a school on the edge of the Dollar neighbourhood from which they launched the heavy bombardment. The 100-strong force came under intense return fire.
The fighters were later heading back to NTC base for the night.
Defiant Kadhafi loyalists in the two areas of northwest Sirte have been staging a determined last stand that has put paid to NTC hopes of a swift mop-up.
"They are shooting at us. They have good positions in buildings and they have snipers," said NTC fighter Amed al-Figi from Misrata. "We are making progress but it is difficult."
NTC commanders said on Thursday the Kadhafi remnants were cornered within about two square kilometres (500 acres) of the city.
Four NTC fighters were killed on Thursday, including two by friendly fire, and another 40 were wounded, mostly by snipers, said Rawad Friwan, a surgeon at a field hospital on Sirte's western outskirts.
Sirte is a key goal for the NTC, which has said it will not proclaim Libya's liberation and begin preparing for the transition to an elected government until the city has fallen.
The regime began its siege of Sirte on September 15 before launching what it termed a "final assault" on October 7 that has seen at least 95 of its fighters killed and hundreds wounded, according to medics.
In Tripoli, pro-Kadhafi forces demonstrated and then clashed with several dozen NTC fighters in Abu Salim, a district 10 kilometres (six miles) south of the city centre known to harbour Kadhafi supporters.
Eight people were wounded, NTC fighters among them, sources at the Abu Salim hospital said.
Abdel Rahman Bussin, military spokesman for the new regime, said Kadhafi loyalists had clashed with NTC fighters in other parts of the capital on Friday, and residents of Abu Salim reported violence in Al-Hai al-Islami, west of the centre.
The deputy head of the supreme military council in Tripoli, Khaled Sharif, said the fighting was "very limited."
"Everything is under control now. We have arrested some of them and we are pursuing the rest," he told AFP.
The fighting was the first in Tripoli since it fell after anti-Kadhafi forces stormed Kadhafi's sprawling, fortified Bab al-Aziziya headquarters on August 23.
In other developments, UN human rights official Mona Rishmawi called on the NTC to find a way to "regulate" the situation of about 7,000 people, including migrant workers, who have been detained in the country due to the conflict.
Some of them are "migrant workers, some are combatants and some of them are maybe mercenaries", she said in Geneva after visiting Libya earlier this month.
Rishmawi also raised concerns about the conditions of the prisoners' detention, and urged the authorities to guarantee that the detainees are "treated correctly."