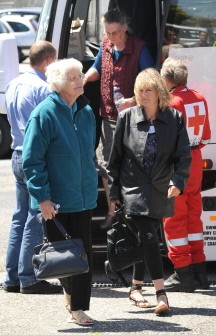 Family members of 29 coal miners trapped underground after an explosion near Greymouth disembark from a bus after visiting the site of the nearby Pike River Coal Mine on November 22, 2010. AFP
GREYMOUTH, New Zealand, Nov 22, 2010 (AFP) - The boss of a New Zealand colliery where 29 miners were trapped by an explosion said hope was fading with every passing hour as frustrated rescuers vied to reach the underground site.
Prime Minister John Key said there was "every chance" the miners had survived the blast but other officials sounded more pessimistic, as the families' agonising wait for news stretched into a fourth day.
Rescuers were drilling a small hole to insert monitoring equipment into the main shaft of the Pike River colliery in a remote area of New Zealand's South Island, and also hoped to send a remote-controlled robot carrying a camera.
But authorities said the mine remained too dangerous to enter, with tests showing a cocktail of poisonous subterranean gases that could overcome any would-be rescuers or spark another explosion.
There has been no contact with the miners since the explosion on Friday afternoon and one of only two men to make it out described an extremely powerful explosion that blew him off his feet.
It sounded like a "shotgun blast but much, much louder and more powerful", said Daniel Rockhouse, 24, whose brother Ben is still in the mine.
"I got up and there was thick white smoke everywhere -- worse than a fire. I knew straight away that it was carbon monoxide," he told the New Zealand Herald.
Key said he believed the 29 men could still be alive.
"The advice I have is that there is oxygen in the mine and there is every chance that those miners have managed to get to a pocket of that oxygen flow and therefore that they are alive," Key told Sky News.
"There's no question from the family members I've spoken to that they are feeling extraordinary high levels of fear and anxiety and frustration," he also told a news conference.
"But we owe it to the men underground that in undertaking the rescue we do so in a way that doesn't endanger their lives any further."
Rescuers were drilling a 15-centimetre (six-inch) hole through to the mine shaft, which would be used to take air samples and funnel laser-imaging equipment and video cameras down to give a clearer picture of the situation.
The drilling crew had bored through 100 metres (330 feet) of rock since starting Sunday and hoped to get through the remaining 62 metres (203 feet) later Monday, Pike River chief executive Peter Whittall said.
Whittall said the focus was on getting the men out alive but concerns were growing.
"The reality is we haven't heard anything from anyone since the two guys came out of the pit. The reality is, for the families now it's becoming more and more grave with every hour that goes past," he told reporters.
Grey District mayor Tony Kokshoorn said the region was "in limbo" as it waits to hear the miners' fate.
"Every hour and every day that goes by we have to face the facts that they can't stay down there indefinitely."
The robot provided by the New Zealand army was being rushed to the mine to provide pictures from the main shaft, but officials said it would have to be modified to ensure it did not ignite gases.
Tests have also detected the presence of fire in the mine but it was not known if it was affecting safe areas where rescuers hope the miners are sheltering with compressed air and water supplies.
Police have released the names of the 29 men but superintendent Gary Knowles said whether they had survived the blast remained the "six million dollar question".
Australian miner Brant Webb, who survived two weeks trapped underground at a mine in 2006, told families to "never give up hope" and others have pointed to the dramatic rescue of 33 miners trapped for more than two months in Chile.