US President Barack Obama takes his drive for healthcare reform on the road Friday as fury mounts among opponents whose angry outbursts have roiled recent town hall meetings on the proposed changes.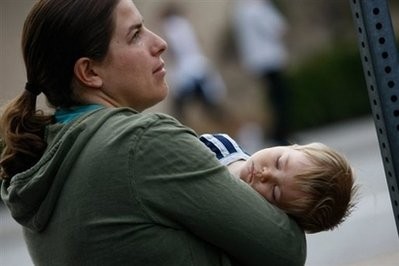 An unemployed and uninsured woman waits to get tickets for a free health clinic in Inglewood, California. (AFP Photo)
In a country where some 47 million people do not have health insurance, Obama has taken a political beating over his attempts to change the system, and now aims to counter what the White House has called a wave of "misinformation."
The US president, with his approval ratings sinking as lawmakers take their August recess, hopes to wrest back control of the debate over healthcare reform and counter a series of explosive claims by his opponents during town hall stops in Montana on Friday and Colorado on Saturday.
Obama is expected to reiterate a promise that his plans do not include "death panels" to ration care for the elderly, a term used by opponents to describe a provision that would allow for consultation about end-of-life services such as hospice care and living wills.
The president is also likely to tell the crowd of around 1,300 not to be swayed by "scare tactics" adopted by opponents who claim he is bent on a government takeover of private healthcare and liken his plans to "socialism."
Those who have raised their voices at lawmakers' town hall meetings in recent days have tended to be older white Americans who already have health insurance, not the predominantly low-income minority segment that does not.
Scenes of shouting seniors who heckled, jeered and interrupted lawmakers as they held town hall meetings have looped on the cable television networks incessantly in recent days.
White House spokesman Robert Gibbs said this week that he doubted that those outbursts represent the overall sentiment of Americans towards healthcare reform, which is still being crafted into proposed legislation by lawmakers.
"I doubt we're seeing a representative sample of any series of town hall meetings despite the food fight on cable every day," Gibbs said.
"The president believes these town halls provide an excellent opportunity to explain exactly what his ideas and principles are," Gibbs said.
"More importantly, if he can affect misinformation by telling people what isn't in a piece of legislation, I think he'll take that opportunity."
Obama's latest town hall meeting, which he hosted Tuesday in the Democrat-friendly northeastern state of New Hampshire, saw none of the screaming interruptions that some lawmakers' forums have across the country.
However, polls suggest the clamor of the debate may be taking a toll on public opinion of the president who swept to victory in November 2008 on a platform of "hope" and "change."
Gallup poll results show that Obama's overall approval rating has slid to 54 percent, from a high of 69 percent in late January.
He also fared lowest on healthcare reform when compared to issues such as the economy and foreign affairs, with 49 percent disapproving of his approach compared to 43 percent who approved.