US President Barack Obama is to address parliament and visit an historic slave castle during a landmark visit to Ghana, widely seen as a tribute to a vibrant democracy in conflict-scarred Africa.
Obama will speak to lawmakers about democracy during the 24-hour visit, his first to sub-Saharan Africa since taking office.
He is expected to push his vision on good governance and economic development for Africa, hours after securing a 20 billion dollar fund to feed the world's hungry during a G8 summit in Italy.
The US leader will hold talks with his counterpart John Atta-Mills, who came to power in January after a cliffhanger election, and then visit a malaria hospital.
Along with his wife Michelle -- the descendant of African slaves -- he is also scheduled to tour Cape Coast Castle, formerly one of the continent's main outposts from where slaves were shipped out to the Americas.
The United States' first black president flew into Ghana on Friday evening after attending a three-day Group of Eight summit in Italy, and was warmly received by Atta-Mills amid the beat of traditional drums and dancing.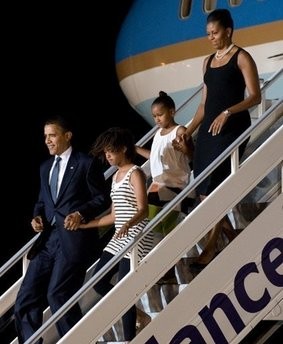 US President Barack Obama , First Lady Michelle Obama and daughters Sasha (2nd R) and Malia disembark from Air Force One in Accra, Ghana.
His choice of the former British colony on the west coast of Africa was based on Ghana's record of democracy and stability in the past decade.
"Part of the reason that we're travelling to Ghana is because you've got there a functioning democracy, a president who's serious about reducing corruption, and you've seen significant economic growth," Obama said just before leaving for Accra.
"So I don't want to overly generalize it, but I do want to make the broader point that a government that is stable, that is not engaging in tribal conflicts, that can give people confidence and security that their work will be rewarded."
In a recent interview Obama said he wanted to link the African trip with the G8 summit to show "that Africa is directly connected to our entire foreign policy approach; that it's not some isolated thing where once every term you go visit Africa for a while to check that box".
Just before leaving for Accra, Obama said: "There is no reason why Africa cannot be self-sufficient when it comes to food.
"It has sufficient arable land. What's lacking is the right seeds, the right irrigation, but also the kinds of institutional mechanisms that ensure that a farmer is going to be able to grow crops, get them to market, get a fair price," he added.
The president, whose father was a Kenyan immigrant, also underscored the need for good governance on the world's poorest continent.
"If you talk to people on the ground in Africa, certainly in Kenya, they will say that part of the issue here is the institutions aren't working for ordinary people," he said.
"And so governance is a vital concern that has to be addressed."
Authorities in Cape Coast, a town 160 kilometres (100 miles) west of Accra, banned all funerals this weekend for the visit.
Ghana's central regional minister Ama Benyiwaa Doe told AFP: "The dead can be buried later, but Obama is here for once and we must pay all attention to him."
Bookshops in Accra, meanwhile, were stocked with piles of Obama's "The Audacity of Hope" book. And larger-than-life posters of Obama and Ghanaian President John Atta-Mills with the slogan "partnership for change" and "akwaaba" (welcome in the local language) were omnipresent.
Obama is the third consecutive US leader in under a decade to travel to Ghana, which was the first black African country to break free from its colonial shackles in 1957.
The choice of Ghana for Obama's first trip to the region has riled other countries in Africa and cast a spotlight on issues that some governments would rather sweep under the carpet.