PARIS, March 24, 2009 (AFP) - US President Barack Obama called on Tuesday for the world's leading countries to take "bold, comprehensive and coordinated action" to stem the global economic crisis when they meet at a G20 summit next week.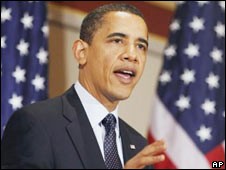 US President Barack Obama
"We are living through a time of global economic challenges that cannot be met by half measures or the isolated efforts of any nation," Obama wrote in an opinion article published in the International Herald Tribune.
"Now, the leaders of the Group of 20 have a responsibility to take bold, comprehensive and coordinated action that not only jump-starts recovery, but also launches a new era of economic engagement to prevent a crisis like this from ever happening again," Obama wrote in the article distributed by Tribune Media Services.
Ahead of an April 2 meeting in London of 20 rich and rapidly developing nations, the United States has called for more stimulus spending while European leaders have emphasised the need for tighter banking supervision.
Obama, who has downplayed talk of any rift between the United States and Europe, noted that other countries have also pursued fiscal stimulus plans and made strong calls for increased financial supervision.
"Only coordinated international action can prevent the irresponsible risk-taking that caused this crisis. That is why I am committed to seizing this opportunity to advance comprehensive reforms of our regulatory and supervisory framework."
Obama called stronger capital and disclosure requirements, as well as a crackdown on offshore tax havens, another European priority.
"If we continue to let financial institutions around the world act recklessly and irresponsibly, we will remain trapped in a cycle of bubble and bust," wrote the US president.
Obama noted the G20 meeting provides a forum for the leaders world's largest economies to work together to solve global problems.
"If the London Summit helps galvanize collective action, we can forge a secure recovery, and future crises can be averted," he wrote.