WASHINGTON, March 29, 2011 (AFP) - US President Barack Obama spoke to Japanese Prime Minister Naoto Kan Tuesday and the leaders agreed to cooperate closely on a crisis over an earthquake-damaged nuclear plant, officials said.
The White House said Obama spoke to Kan as he flew back to Washington from New York on Air Force One, in their third conversation since an devastating earthquake and tsunami disaster struck Japan on March 11.
"The President reiterated that the United States is determined to support the people of Japan in their efforts to deal with the devastating effects of this tragedy, both in the short and the long term," a White House statement said.
"Prime Minister Kan thanked the President for the extensive US help in the response effort. The two leaders reaffirmed the importance of close US-Japanese cooperation in dealing with the ongoing nuclear emergency."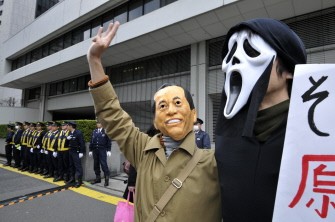 AFP - A protestor wears a mask resembling Prime Minister Naoto Kan as protesters gather against nuclear plants, in front of the Tokyo Electric Power Co (TEPCO) headquarters in Tokyo on March 27, 2011.
Japan said on Tuesday it was on "maximum alert" over the crippled Fukushima nuclear plant where plutonium has been found in the soil.
The earthquake and tsunami that ravaged Japan's northeast coast and left about 28,000 dead or missing also knocked out reactor cooling systems at the installation, which has leaked radiation into the air and sea.