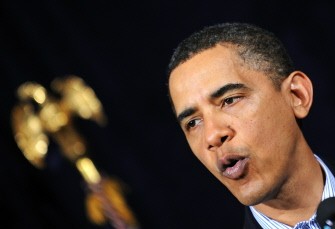 US President Barack Obama makes a statement at the Marine Base in Kaneohe, Hawaii, on December 29, 2009. (AFP photo)
HONOLULU, Hawaii, Dec 29, 2009 (AFP) - President Barack Obama bluntly said Tuesday the thwarted Christmas Day airliner attack exploited a potentially "castastrophic" systemic failure in the US intelligence community.
Obama vowed to hold security agencies to account for gaping flaws, as it emerged that the 23-year-old Nigerian accused of trying to blow up a packed Northwest jet only recently left Yemen, a suspected haven for extremists.
"A systemic failure has occurred and I consider that totally unacceptable," Obama said in a statement, breaking his Hawaii vacation for a second straight day to update Americans on the attack, claimed by Al-Qaeda.
"There was a mix of human and systemic failures that contributed to this potential catastrophic breach of security," Obama said.
"We need to learn from this episode and act quickly to fix the flaws in our system because our security is at stake and lives are at stake."
Obama complained that the father of would-be bomber Umar Farouk Abdulmutallab had warned US diplomats in Abuja that his son was an extremist threat -- yet the man was still able to board a US jet with explosives sewn into his underpants.
Threat information on Abdulmutallab was passed by diplomats to the US intelligence community and landed him on a broad terrorist "watch list."
But Abdulmutallab did not lose his valid US visa and did not wind up on "no-fly" lists sent by the US government to warn airlines of security threats.
"The warning signs would have triggered red flags, and the suspect would have never been allowed to board that plane for America," Obama said.
A disastrous lack of cooperation between US law enforcement and intelligence agencies was blamed as a key contributor to the September 11 attacks in 2001, which killed nearly 3,000 people.
Obama's remarks, his second on the incident in as many days, came as the White House hit back at the perception that the president was disengaged, as he enjoys a break away from Washington in his native Hawaii.
Earlier, in Yemen, the government said that Abdulmutallab had been in the country until a few weeks ago.
The would-be suicide bomber has reportedly confessed to being trained for his mission by an Al-Qaeda bomb maker in Yemen, which many top US officials fear has become a haven for extremists.
"He stayed in Yemen between the beginning of August and the beginning of December, after having received a visa to study Arabic at an institute in Sanaa where he had previously studied," a Yemeni foreign ministry spokesman said.
Yemen gave him a visa after security officials were "reassured that he had been granted visas by friendly countries, and still held a valid visa to the US, where he had visited before," the spokesman said.
US media, meanwhile, published government photographs showing the suspect's singed underwear, a syringe and a plastic container believed to have stored the explosive PETN, or pentaerythritol tetranitrate.
The device ignited and sent flames up the side of the cabin but failed to detonate properly as the Northwest Airlines flight with 290 people on board, prepared to land in Detroit. The suspect, badly burned, was apprehended by passengers and crew and is now in a Michigan jail pending trial.
Al-Qaeda in the Arabian Peninsula (AQAP), an affiliate of Osama bin Laden's terror network led by Yemeni and Saudi radicals, claimed on Monday that it was behind the plot and threatened new attacks against the West.
The New York Times said Abdulmutallab told FBI agents that he was connected to the Al-Qaeda affiliate by a radical Yemeni cleric whom he contacted online.
The 23-year-old suspect, who even at school was likened to an imam because of an Islamic fervour, was a regular user of an online Islamic Forum and fantasized of holy war, according to US press reports on Tuesday.
Obama has ordered a review of the no-fly list system and a separate probe into how Abdulmutallab managed to sneak an explosive device past security at Amsterdam's Schiphol airport onto a plane bound for the United States.
He demanded preliminary conclusions by Thursday, and said that serious concerns and deficiencies with the US homeland security system had already emerged.
Repercussions were being felt by air travelers around the globe, with China on Tuesday the latest country to call on the United States to strengthen security checks.