WASHINGTON, April 8, 2011 (AFP) - President Barack Obama demanded a rapid answer from Republicans on a deal to avert a government shutdown, heaping intense pressure on his foes with Friday's deadline looming.
Obama's second consecutive late-night summit with Republican House of Representatives speaker John Boehner failed to clinch a deal in a budget row that has turned into a tussle for political primacy in divided Washington.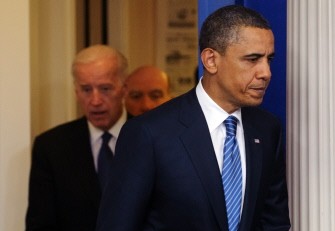 AFP - US President Barack Obama (R) is followed by US Vice President Joe Biden (L) and White House Chief of staff William Daley (C) into the Brady Briefing Room to speak to the press April 7, 2011
But the president showed a glint of optimism that a deal to fund the US government could be wrapped up on Friday, allowing him to put the machinery already beginning to shutter the vast federal bureaucracy into reverse.
"My hope is, that I will be able to announce to the American people sometime relatively early in the day that a shutdown has been averted, that a deal has been completed," Obama said.
But the president cautioned he was not yet "wildly optimistic."
Should last-ditch efforts fail, around 800,000 federal employees would be temporarily laid off, frontline combat soldiers would miss paychecks and even the Blackberry smartphones of government officials would go dark.
But deep political uncertainty will cloud the endgame of the crisis even if a deal is reached, with Boehner in an especially precarious political position.
The speaker would have to sell the agreement to ultra-conservative members of his coalition, elected on a Tea Party platform of massive spending cuts and outright confrontation with the Democratic president.
With Obama's order ringing in their ears, key Democratic and Republican congressional aides negotiated through a second straight night in search of a deal, which would need to be approved by the Senate and the House.
"The remaining issues are extremely, extremely narrow," Democratic Senate Majority Leader Harry Reid said after returning from Thursday's late-night talks at the White House.
"I'm not really confident but I'm very, very hopeful."
Boehner joined Reid in a statement saying "we have narrowed the issues" and vowing to "continue to work through the night to attempt to resolve our remaining differences."
After the meeting, Obama canceled a planned trip to Indiana to stay in Washington and see the final push to the end.
Reflecting his own party's hard line on spending, Boehner said earlier that "we each have policy provisions we feel strongly about. We have spending that we feel strongly about."
Republicans disputed Democratic claims that a breakthrough -- needed to avert the shutdown -- had stalled on anti-abortion measures attached to a spending blueprint passed by the House six weeks ago.
The White House declined to detail remaining issues but Obama has said he will not back down on Republican attempts to curtail spending on education, environmental rules and some medical procedures.
Both sides agreed on the need for massive spending cuts -- but Boehner said earlier there had been no agreement on a number -- despite Democratic claims that the sides had settled on $34.5 billion in cuts.
Any deal would finally clear a federal 2011 budget and would fund the US government through October 1, with more pitched battles over spending to come between Obama and Republicans ahead of his 2012 reelection bid.
The showdown on the scope and nature of huge spending cuts in last year's budget is the first big clash between Obama and the new Republican House elected in November, and has huge political ramifications.
As the maneuvering intensified ahead of Friday's deadline, House Republicans voted through a stopgap spending bill including $12 billion in cuts that would avert a shutdown and take negotiations into another week.
But Obama threatened to veto the measure, should it reach his desk, arguing it was a tactic to divert attention from the main focus of the high-stakes Oval Office talks.
In addition to shutting out government workers, the partial closure of the government would delay pay to soldiers, including those in Iraq and Afghanistan, and hurt some Americans counting on annual tax refunds.
National parks and monuments would also close, along with passport offices. But military operations and border enforcement would go on, under a waiver for activities crucial to national security.