Barack Obama hailed a "historic consensus" Thursday on cutting pollution, saying rich nations had a duty to set an example, as world leaders also agreed to shun protectionism at a G8 summit.
At expanded sessions at the G8 club of developed nations' annual summit in Italy, an agreement was also reached that countries should resist calls for protectionism to cushion the impact of the economic crisis.
Brazil, China, Egypt, India, Mexico and South Africa all joined the G8 on its second day, determined that US President Obama and his wealthy partners pick up most of the tab for solving the economic crisis and global warming.
The emerging powers, long wary of shackling their growth through limiting their carbon emissions, ultimately bowed to pressure from the industrialised world to agree a climate change target, but not without a fight.
UN chief Ban Ki-moon expressed disappointment at the outcome, saying leaders had passed up a "unique opportunity."
As late as last week, China and India opposed ambitious reduction targets, arguing the rich world should lead the way in fighting climate change.
But according to a copy of a summit communique seen by AFP, the Major Economies Forum -- the 16 countries that between them produce 80 percent of the world's greenhouse gases -- has come to a deal on a target.
The G8 countries, despite the reticence of Russia, had earlier agreed that developed nations should cut their emissions by 80 percent by 2050.
Now the emerging economies have accepted the principle of limiting the rise in the Earth's average temperature to two degrees Celsius above its 18th-century level, before the industrial revolution.
"This week the G8 nations came to an historic consensus towards concrete goals to reduce carbon emissions," said Obama.
"Developed nations will reduce their emissions by 80 percent and we will work with all nations to cut global emissions in half. This ambitious efforts is consistent with limiting global warming to no more than two degrees Celsius.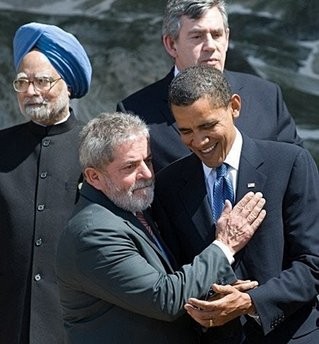 Clockwise from top: Indian Prime Minister Manmohan Singh, British Prime Minister Gordon Brown, US President Barack Obama and Brazilian President Luiz Inacio Lula da Silva are seen during a family photo at the G8 summit
"Developed countries, like my own, have a historic responsibility to take the lead," he said.
"And I know that in the past the United States has sometimes fallen short of meeting our responsibilities, so let me be clear, those days are over."
According to a G8 diplomat, Indian premier Manmohan Singh had told his Western counterparts during the talks that "the developed world should shoulder a historic responsibility for causing global warning."
Ban however expressed disappointment that the summit had missed a "unique opportunity" to make progress in the build-up to a major climate conference in Copenhagen in December. "The outcomes are not sufficient," he added.
And Brazil dismissed the G8's distant emissions reduction target as "not credible" without an earlier interim stage, echoing the position of Russia, which has also dismissed the goal.
The six developing countries agreed with the big eight -- Britain, Canada, France, Germany, Italy, Japan, Russia and the United States -- that they would oppose protectionism and move quicker towards a global trade deal.
"We confirm our commitment to maintain and promote open markets and reject all protectionist measures," the expanded group, known at the summit as the G14, said in its post talks statement, seen by AFP.
"We are committed to seek an ambitious and balanced conclusion to the Doha developmental round in 2010," it added, setting a deadline for the resolution of a long-delayed global trade agreement.
The Doha round of trade liberalisation talks were launched in the Qatari capital in late 2001 but have foundered ever since, despite repeated attempts to infuse new life into the negotiations.
Progress has been hampered by disputes between developed and developing nations on measures to ease restrictions on trade in agricultural and industrial products.
Outside the summit venue -- a police training barracks hurriedly transformed into an international conference centre -- wives of several of the G8 leaders toured the town of L'Aquila, devastated by the April 6 earthquake.
The women, including US First Lady Michelle Obama, saw the work to recover the mountain town's historic centre and were ushered away from a protest by local residents who feel not enough has been done to rehouse them.
The G8 summit was to continue with more talks with leaders of the emerging economies Thursday, before coming to a conclusion Friday after morning meetings with African leaders to discuss food security and aid.