MOSCOW, July 6, 2009 (AFP) - US President Barack Obama was on his way to Russia Monday to revive a relationship hurt by a series of crises, but with the two Cold War ex-foes still facing tough talks on several key issues.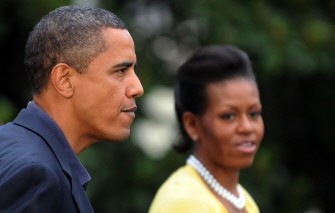 US President Barack Obama and First Lady Michelle Obama walk to board the Marine One helicopter on the South Lawn at the White House in Washington, DC, on July 5, 2009 en route to Andrews Air Force Base to leave for Russia (AFP photo)
In Moscow, Obama will be seeking to clinch an important deal on Russia allowing the transit of US military goods bound for Afghanistan across its territory as well as agree a declaration on nuclear weapons cuts.
Making his first visit to Russia as president, Obama was to arrive at 1:20 pm (0920 GMT) and lay a wreath at the Tomb of the Unknown Soldier before heading into talks with President Dmitry Medvedev in the Kremlin.
Both sides have repeatedly used the slogan of pressing "the reset button" to lift relations that were brought to a post Cold War low under the presidency of George W. Bush amid a series of rows capped by Russia's war with Georgia.
But Obama's two-day visit -- which will also include meetings with opposition figures and a keynote speech to an economics university -- is not expected to be completely smooth.
The US president showed he was unafraid of blunt talking on Russia when he said in a pre-visit interview that Medvedev's predecessor and strongman Prime Minister Vladimir Putin still had "one foot" in the past.
That remark set off frenzied speculation in the Russian press Obama was seeking to strengthen the youthful Medvedev over Putin. Obama is due to meet the prime minister for breakfast on Tuesday.
He also gave an interview to the Novaya Gazeta newspaper, a publication that has been a constant thorn in the Kremlin's side and was the employer of the murdered Putin critic Anna Politkovskaya.
In that interview he described as "strange" the Russian judiciary's decision to launch a second trial against Russia's jailed former richest man Mikhail Khodorkovsky, a comment hardly likely to gladden his hosts.
"A complete reset and partnership is being blocked by disagreements on the main questions," said the Kommersant daily.
The Russian edition of Newsweek said Washington was particularly irked by Russia's dismissal of the political crisis in Iran as an internal matter and its decision to apply for WTO membership as a regional trade bloc.
"It doesn't smell like a reset. Nothing has remained of the great expectations of the Moscow summit."
"Ahead into the future or back to the USSR?" asked the opposition New Times.
"Never in the 18 years history of preparing the visits of US and Russian leaders has there been such tough disputes over the agenda and such resistance within the elites on both sides as now."
Nevertheless, US officials are expecting a major boost for its operations in Afghanistan with an agreement for the United States to transport military supplies across Russian territory.
Previously, Washington has only been allowed by Moscow to transport non-lethal supplies by rail. The new deal should allow the United States to transport military supplies across Russia by air.
The two countries are also set to sign a declaration establishing the framework to renew the Strategic Arms Reduction Treaty (START), a Cold War-era deal that expires in early December.
"There certainly won't be an agreement on the end deal... but I think you will see an announcement that indicates some progress toward reaching that objective," White House arms control specialist Gary Samore said Sunday, referring to a deal by year's end.
Reports said that the two sides were on Sunday still unable to agree on the document's text but the Interfax news agency reported Monday that the declaration had been agreed.
"The text of the document has been agreed," the agency quoted a source in the Russian foreign ministry as saying.
The US president, accompanied by his wife Michelle and two daughters, is to stay at luxury appartment the Ritz Carlton hotel.
Obama will be hoping for a smoother reception than on a 2005 visit to Russia when a coordination mix-up resulted in the then senator and his colleague Richard Lugar being detained for three hours at the airport in the Urals city of Perm.