WASHINGTON, Sept 18, 2011 (AFP) - US President Barack Obama embarks on a diplomatic marathon this week at the United Nations, touting his approach to Libya, but hoping to contain Palestinian ambitions for statehood.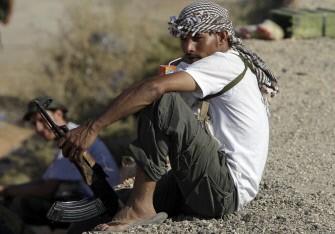 AFP - A Libyan National Transition Council fighter sips an orange drink at an outpost close to the frontline of the Bani Walid Kadhafi hold-out, southeast of Tripoli on September 17, 2011, as forces of Libya's new leadership battled diehard remnants of the fallen regime in the desert oasis and the coastal city of Sirte.
Leaving behind for 48 hours domestic battles with Republican opponents and an uphill battle to see his jobs plan move through Congress, Obama will huddle with a host of world leaders on the sidelines of the UN General Assembly and speak before the chamber early Wednesday.
Obama will "have a chance to address the dramatic change that's taken place in the course of last year," including the emerging nation of South Sudan, transfer of power in the Ivory Coast and a wave of unrest and transformation with the Arab Spring, said Deputy National Security Adviser Ben Rhodes.
On the Israel-Palestinian issue, the US leader will also "express our support for a negotiated, two-state solution between the parties," Rhodes told reporters on Friday.
His agenda will likely hinge on that crisis burning in the Middle East, as the Palestinians make a landmark bid for statehood, despite the promise of a US veto at the Security Council as Washington solidifies its staunch backing of Israel.
If the Security Council effort fails, however, the Palestinian leadership is set to take the effort to the more sympathetic General Assembly.
"The United States finds itself in an impossible position," said Jon Alterman, a Middle East expert at the Center for Strategic and International Studies (CSIS).
The Obama administration "will end up once again on the wrong end of a lopsided vote in the General Assembly, surely leading to all sorts of complaints the administration has no credibility in the international stage," he added.
Obama anticipates meeting Israeli Prime Minister Benjamin Netanyahu in New York, but there is no meeting on his itinerary with Palestinian president Mahmud Abbas.
On Friday, Abbas promised Palestinians he will seek UN membership before the Security Council, saying this membership was his people's "legitimate right."
Beyond the immediate issue, Obama also plans to meet one-on-one with Turkish Prime Minister Recep Tayyip Erdogan, amid Ankara's concurrent move to distance itself from Israel over the raid of flotilla ships to Gaza last year.
But observers say Obama will arrive at the UN headquarters being able to tout a largely successful effort to bring down Libyan leader Moamer Kadhafi, after lobbying forcefully for the resolution that kicked off the NATO campaign backing the rebel opposition.
On Tuesday, Obama is due to meet with Mustafa Abdel Jalil, chairman of Libya's National Transitional Council, recognized by Washington as the legitimate government there.
Obama, said Rhodes, "will "be able to express US support for a post-Kadhafi transition in Libya, and to discuss the TNC's plans for a post-Kadhafi transition."
He will also huddle with his main western counterparts backing his Libya strategy: French President Nicolas Sarkozy and British Prime Minister David Cameron.
In the speech Wednesday, Obama will review progress toward winding down US military operations in Iraq at the end of this year, as well as the US security transition in Afghanistan, officials said.
A day earlier, he will meet face-to-face with Afghan leader Hamid Karzai for the first time since announcing the withdrawal of a third of the US personnel by late summer 2012 -- almost 11 years since US troops first entered the country to oust the Taliban and the Al-Qaeda network they harbored.
Obama will also meet with Brazilian President Dilma Rousseff, Japan's new Prime Minister Yoshihiko Noda, and Salva Kiir, leader of the world's newest nation, South Sudan.
However, beyond the geopolitical crises and revolutionary movements shaping the world, Europe's debt burden will also be a key topic, threatening to drag European countries down and stall the US economy recovery.
"I believe that we are watching what has been over an 18-month crisis starting to morph into a slow-motion collapse," said Heather Conley of CSIS, noting it was certainly set to be a topic for hallway chatter in the halls of New York this week.