US President Barack Obama attends his first North American leaders summit in Mexico on Sunday with the economic crisis and swine flu on an agenda overshadowed by Mexican drug violence.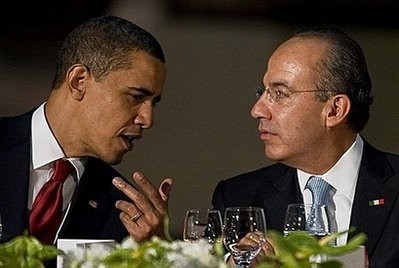 Mexican President Felipe Calderon (R) listens to US president Barack Obama during a meeting in April 2009 (AFP Photo)
Hundreds of Mexican soldiers and police deployed in the western city of Guadalajara for the summit in which Obama, Mexican President Felipe Calderon and Canadian Prime Minister Stephen Harper were due to touch on a wide range of topics affecting the region of almost 450 million inhabitants.
Measures to help recovery in the three major economies that have been tied by the North American Free Trade Agreement (NAFTA) for 15 years were a top priority.
Like the United States, Mexico has sunk deep into recession, with much of its industry tied to the worst-affected areas of the US economy -- cars and construction -- and migrant workers north of the border sending less money home.
In the two-day meeting, Canada and Mexico -- the first and third-largest US trading partners -- were expected to pressure Obama over a "Buy American" clause in the US economic stimulus plan.
Mexico also sought to resolve an immigration dispute with Canada over the recent imposition of visas for Mexicans, and a trade dispute involving Mexican trucks operating in the United States, officials said here.
Mexico responded to the US cancellation of a program allowing some Mexican trucks on its territory -- in violation of NAFTA -- by slapping some 2.4 billion dollars in tariffs on 89 US products in March.
With Mexico's news reports splashed with daily violence, and killings in suspected drug attacks approaching 10,000 since the start of 2008, Calderon may seek more support for his controversial military crackdown on the country's warring drug gangs.
The summit comes amid criticism of alleged abuses by some of around 40,000 troops deployed across the country, and reports of growing Mexican drug gang activity across the United States, Canada and beyond.
The United States -- the world's number one cocaine consumer and a market for illegal weapons and money laundering for Mexican drug gangs -- for the first time this year admitted shared responsibility in the Mexican drug cartel problem.
It has already agreed to some 1.4 billion dollars in security and justice aid to Mexico under the three-year Merida Initiative, which still has to be fully approved by Congress.
Other key issues on the Guadalajara agenda include curbing greenhouse-gas emissions ahead of a key climate summit in December, the threat of swine flu on the continent worst hit by A(H1N1), the Honduras crisis and immigration reform.
Some 1,200 federal police officers were deployed around the city for the meeting, as well as around 1,000 Mexican presidential guards and other troops, Mexican officials said.
Local rights and environmental groups planned demonstrations in the city on Sunday.