An exuberant Barack Obama Friday offered a cheeky prediction he would be president until 2016, as he tried to lend his winning streak to his home city of Chicago's Olympics bid.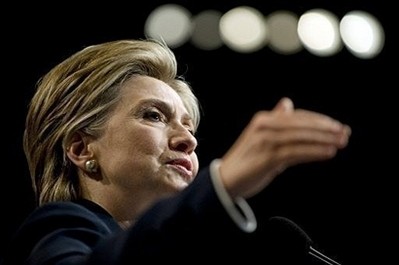 Hillary Clinton speaks to the American Israel Public Affairs Committee (AIPAC) in Washington on June 4, 2008. An exuberant Barack Obama Friday offered a cheeky prediction he would be president until 2016, as he tried to lend his winning streak to his home city of Chicago's Olympics bid.(AFP/File/Robyn Beck)

Fresh from a giant-slaying win over rival Hillary Clinton in the Democratic White House nominating race, Obama joked he could put his house up for rent, to make a financial killing if Chicago wins the 2016 Summer Games.
"I have to let you know in 2016, I'll be wrapping up my second term as president," Obama said in a surprise appearance at a rally celebrating Chicago's selection as a finalist for the Summer Games.
"So I can't think of a better way than to be marching into Washington park ... as president of the United States and announcing to the world, let the Games begin!"
"I might have to rent out my house. I don't know how much it's going to be worth," he said, firing up a wild outdoor crowd of several hundred people, many of them office workers who had downed tools for the lunchtime rally.
Obama was enjoying a rare weekend at home following the punishing 17-month Democratic contest, and gearing up to take on Republican John McCain in a five-month sprint to the general election.
On Monday, his campaign said he will embark on a two-week tour focusing on economic woes facing many Americans, apparently targeting blue-collar Democrats who often favored Clinton over him.
Obama's ebullient tone contrasted with the prospect facing his vanquished foe, who was consoling staff at her home in Washington and prepping for a final campaign-ending rally on Saturday.
The rivals held a secret meeting in Washington on Thursday night to try to hammer out a way to work together to defeat McCain, sparking fresh speculation about Clinton's vice presidential prospects.
Chicago on Wednesday advanced to the next stage of the International Olympic Committee's selection process for the 2016 Games, along with Tokyo, Rio de Janeiro and Madrid.
"It's a good time to be in Chicago," Obama said, and played off the success of his city's two baseball teams.
"White Sox are winning. Cubs are winning, and Chicago's going to win the 2016 Olympics and Paralympics. And your senator, he's winning too."
Mystery still shrouded the talks between Obama and Clinton, at the home of Democratic Senator Dianne Feinstein on Thursday night.
"I had a chance to talk to Hillary for a little bit because she came early," Feinstein told Fox News.
"Then Barack Obama came, and I seated them in comfortable chairs by the fireplace, then I went upstairs to work.
"When they were finished, he called up, and I came down and said goodnight. That was it."
Obama's communications director Robert Gibbs said the rivals had both wanted to escape the media glare in their closed-door talks.
"This was a meeting that both candidates had wanted to do and both candidates wanted to do in a very private way," he told CNN.
"They talked about how to come together and how to unify this party and move forward ... and what unites us as a party far exceeds what might divide either of these two candidates."
The former first lady earlier had sought to quash suggestions that she had launched a new campaign -- to be picked as Obama's vice president, after he won their epic battle for the nomination on Tuesday.
After promising to throw the full weight of her formidable support behind Obama, Clinton disowned a drive by some of her followers to force her onto the Illinois senator's ticket.
But Clinton supporter, fellow New York senator Chuck Schumer, said Friday she would take the number two spot on the ticket if offered.
"She's done exactly the right thing," Schumer told ABC.
"She said if Senator Obama should want her to be the vice president and thinks it's best for the ticket, she will serve, she will accept that.
"But on the other hand if he chooses someone else, she'll work just as hard for the party in November."
Clinton was to appear at a rally on Saturday at noon (1600 GMT) at Washington's National Building Museum, at which she is expected to throw her full political weight behind Obama.