Democrat Barack Obama and Republican John McCain traded furious foreign policy barbs Friday, in a three-way row over how to deal with US foe Iran originally sparked by President George W. Bush.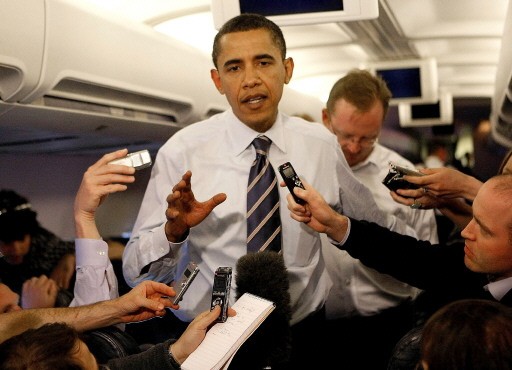 Democratic presidential hopeful US Senator Barack Obama takes questions from reporters during a flight on his campaign plane from Grand Rapids to Chicago on May 14, 2008. (AFP Photo)
Obama, the Democratic presidential frontrunner, said he was ready to do battle at anytime and at any place on the foreign policy records of Bush and McCain, the Republican presumptive nominee.
"They are trying to fool you, and trying to scare you. They are not telling the truth," Obama said in South Dakota, a day after Bush ignited the row by implying in a speech in Israel that Democrats want to appease terrorists.
"The American people have had enough of the division and the bluster," Obama said, and argued that Bush's policy of declining to talk to Tehran had been a "complete failure" which McCain wanted to prolong.
The quarrel was an early preview of the foreign policy spats likely to mark a potential general election campaign between Obama, the Illinois senator who has an overwhelming lead over Hillary Clinton in the Democratic race, and McCain.
"George Bush and John McCain have a lot to answer for," Obama said, portraying US Iraq policy as disastrous, and noting that Al-Qaeda mastermind Osama bin Laden was still at large.
He also accused McCain of misrepresenting his stance towards Hamas, and said the Arizona senator had gone back on his own earlier comments that the United States would eventually have to talk to the militant Palestinian group.
Obama was referring to an article in the Washington Post by James Rubin, a former official in president Bill Clinton's administration, which quoted McCain as saying Washington would have to talk to Hamas "sooner or later."
But the McCain campaign later accused Rubin of lying, saying he had selectively quoted their candidate by omitting his warnings that any dialogue would have to be subject to strict conditions.
McCain hit back personally during a speech to the powerful gun lobby in Kentucky, saying Obama's offer to speak to Iran raised questions about his qualifications.
McCain's one-time rival for his party's nomination, Mitt Romney, also took a shot at the Democratic frontrunner, saying Obama "wants to sit down personally, if he is the president of the United States, with some of the world's worst actors -- Kim Jong-Il, Ahmadinejad, (Fidel) Castro -- giving them a propaganda bonanza."
Bush on Thursday implicitly compared Democratic policies to appeasement of the Nazis during a speech in Israel's parliament.
"Some seem to believe that we should negotiate with the terrorists and radicals, as if some ingenious argument will persuade them they have been wrong all along."
Obama dismissed that idea.
"The implication was that if you object to George Bush's policies of non-engagement, then, you know, you are being soft."
Obama said in a debate last July that he would be willing to hold talks, without preconditions, with the leaders of Iran, Syria, North Korea, Venezuela and Cuba.