PRAGUE (AFP) – US President Barack Obama and his Russian counterpart Dmitry Medvedev met in Prague on Thursday before signing a treaty slashing their countries' nuclear arsenals.
The two heads of state will sign a successor to the 1991 Strategic Arms Reduction Treaty (START), which expired last December, in the city where Obama called for a nuclear-free world in a keynote speech a year ago.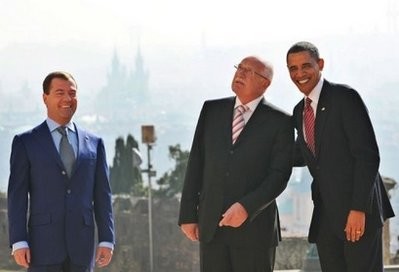 US President Barack Obama (R) with his Czech counterpart Vaclav Klaus (C) and Russian President Dmitry Medvedev at Prague Castle. AFP photo
The signing is to take place in at Prague Castle at midday (1000 GMT) after a one-on-one meeting expected to focus on Iran's nuclear programme, the Kyrgyzstan uprising and US missile defence in Europe.
Following the ceremony in the castle's lavishly decorated Spanish Hall, Obama and Medvedev will give a joint press conference.
Sticking to diplomatic protocol, Obama had to wait for Medvedev at the castle as the Russian president has been in office longer than him.
Both presidents walked on a red carpet flanked by army officers in full dress, before Czech President Vaclav Klaus took them to the castle gardens, where they posed for photographers in the spring sun in front of Prague's historic skyline.
Obama and Medvedev then went into the castle for talks.
Medvedev arrived in Prague on Wednesday evening, while Obama landed after 0900 (0700 GMT) on Thursday.
The Russian president is due to leave Prague on Thursday afternoon.
Obama will later on Thursday meet 11 central and eastern European leaders, whose countries have fretted about eroding support from Washington as the Obama administration pursues closer ties with Russia.
He will spend the night in Prague and leave for Washington around noon (1000 GMT) on Friday after bilateral talks with Czech leaders.