BOSTON, Massachusetts, Aug 29, 2009 (AFP) - US President Barack Obama held a private 10-minute meeting with Edward Kennedy's widow early Saturday morning, hours before delivering the eulogy at the veteran senator's funeral.
Obama emerged from his hotel in central Boston, surrounded by Secret Serice agents, wearing a coat to ward off the rain, and walked across the road to the Fairmont Copley Plaza Hotel, to meet Vicki Kennedy.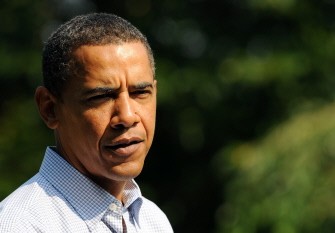 US President Barack Obama makes a statement over the death of US Sen. Edward Kennedy in Massachusetts, on August 26, 2009 (AFP photo)
He retraced his steps just over 10 minutes later and the White House confirmed that he met with Kennedy's widow, ahead of the funeral set to draw scores of politicians and public figures at Our Lady of Perpetual Help Basilica in Boston.
The president left the east coast resort of Martha's Vineyard late Friday where he had been vacationing, to ensure that bad weather unleashed by weakening tropical depression Danny would not thwart his plans to be at the funeral.
Obama has said he was "heartbroken" by the loss of Kennedy, who he viewed as a friend and political mentor.
The president is expected to return to Martha's Vineyard, weather permitting, later Saturday, before leaving for Washington as scheduled on Sunday.
Danny, though weakening, was already bringing heavy rain and strong winds to much of the US northeast coast as it moved north towards Canada.