Barack Obama picked former Senate leader Tom Daschle to lead his high-risk drive to end the US healthcare crisis and stocked his White House staff with loyal campaign aides.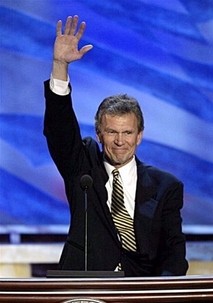 Former leader Senate leader Tom Daschle (AFP Photo)
The president-elect, who takes office in January, spent the day in his Chicago transition office, but a Democratic official said he had asked ex-South Dakota senator Daschle to be health and human services secretary.
Obama was also reported to have candidates in mind to head the key departments of Homeland Security and Commerce, but the reports could not be immediately confirmed.
CNN, citing multiple sources familiar with the appointments process, said Obama was likely to name Democratic Arizona Governor Janet Napolitano, 50, to run the Department of Homeland Security. The department was created following the September 11, 2001 terror attacks on the United States.
And Chicago businesswoman Penny Pritzker, 49, who raised record amounts of money as Obama's national finance chairwoman for his campaign, is the leading candidate to be commerce secretary, the network reported.
Both women would accept the positions if offered, the sources told CNN.
Daschle, 60, will be tasked with shepherding healthcare reform legislation through Congress in line with Obama's campaign vow to revamp the US medical system and help 45 million Americans who have no health insurance.
The last major healthcare reform attempt by a Democratic president, piloted by Hillary Clinton during her husband Bill Clinton's administration, ended in a notorious failure.
More than a decade on, there was no indication Wednesday on whether the former first lady would accept Obama's overtures concerning the key post of secretary of state.
The Wall Street Journal reported former president Clinton had removed a barrier to the appointment by offering to submit his future charitable and business dealings to an ethics review if his wife became the top US diplomat.
Some analysts have questioned whether Bill Clinton's myriad business deals, donor lists and contacts with foreign governments could raise conflicts of interest if his wife became the face of US foreign policy.
More than two weeks after Obama's historic election victory, there was a morsel of comfort for his defeated rival John McCain, after the final vote totals finally nudged Missouri into the Republican's column.
The Arizona senator took the heartland swing state by a wafer-thin margin of 49.4 percent to 49.3 percent and no recount is expected.
The result, once certified, means the total in the state-by-state Electoral College total will stand at 365 to Obama and 173 to McCain. A total of 270 was needed for victory in the November 4 election.
Sixty-two days before Obama is sworn in on January 20, he announced a raft of new top staff appointments in the White House, and offered broad hints of the make-up of his national security council team.
David Axelrod, a Chicago political consultant who is perhaps Obama's closest aide after they first met in the early 1990s, will work in the White House as senior advisor to the president.
Greg Craig, another advisor who was in at the start of Obama's presidential campaign, will serve as special counsel -- the president's top lawyer.
Craig is a former director of policy planning in the State Department and directed Bill Clinton's impeachment defense.
Earlier, Obama announced a list of former campaign advisors who will lead working groups to frame policy to ensure his administration gets off to a fast start.
Daschle will lead the healthcare panel, while James Steinberg, a hot tip to be national security advisor, was named to head a national security working group.
Another close foreign policy aide, Susan Rice, also tipped for a top White House or State Department national security post, will work alongside Steinberg.
Steinberg served as deputy national security advisor in the Clinton administration, while Rice was assistant secretary of state for African affairs between 1997 and 2001.
Meanwhile Senator Joseph Lieberman, who criticized Obama during the campaign but is one of two independents in the Senate that vote with the Democratic Party on most issues, said in an interview he should have been more clear about insinuating that Obama was a Marxist by saying "it's a good question to ask."
Asked on CBS if he was sorry, Lieberman answered: "That's one of those things I wish I said more clearly. Obviously Barack Obama is not a Marxist."