US President Barack Obama will make his debut Oval Office address to the American people on Tuesday, as he seeks to wrest political control over the Gulf of Mexico oil catastrophe.
Corporate oil chiefs, including the head of the US division of BP, which has been cast by many in Washington as the villain of the disaster, will meanwhile face a roasting by angry lawmakers in Congress.
The dual narrative will unfold with no end in sight to an ecological disaster that has defied the combined and sometimes discordant efforts of the world's most powerful nation and one of the globe's mightiest energy companies.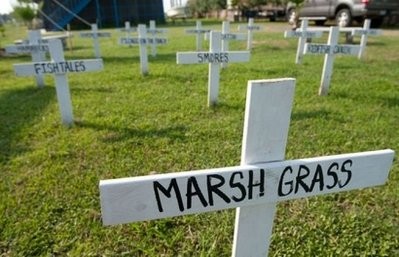 Crosses with descriptions of fish and wildlife are planted in the front yard of a home in Grand Isle, Louisiana, June 14, 2010, protesting things potentially lost as a result of the BP oil spill
Obama will fly back to Washington from Florida after a two-day, three-state tour of the disaster zone, and will seek to show mastery over the situation, after sometimes seeming to follow rather than dictate events.
He will speak from the Oval Office at 8.00 pm (0000 GMT) in a setting reserved for the most somber and important moments of US national life.
The oil spill has already become a defining feature of an administration which is itself no stranger to deep crises.
Two months after an explosion aboard a BP-leased rig, a vast oil slick in the Gulf of Mexico is threatening beaches, devastating the fishing industry and wildlife, and set to leave a multi-billion dollar bill in at least four states.
Amid rising political criticism of his leadership on the oil spill, and as polls show Americans believe he should be doing more, Obama must also offer the prospect that his administration will eventually triumph over nature.
But with crude expected to continue gushing into the Gulf of Mexico until BP completes the first of two relief wells in August, he must also steel Americans for a long slog before the Deepwater Horizon oil spill is history.
"Now, I can't promise folks here in Theodore or across the Gulf Coast that the oil will be cleaned up overnight. It will not be. It's going to take time for things to return to normal," Obama said in Alabama Monday.
"But I promise you this, that things are going to return to normal."
Obama may also use the televised address to launch a fresh push to wean America off oil from foreign or risky deepwater sources with a green energy bill stalled in the Senate, amid volatile election-year politics.
"The time, has come, once and for all" to ""fully embrace a new future," Obama said, in a message to his Organizing for America grass roots political movement on Monday.
The House of Representatives Committee on Energy and Environment will hold a hearing Tuesday with senior officials from Exxon Mobil, Chevron, ConocoPhillips, Shell, and BP's US president and chairman Lamar McKay.
The hearing will be a warm-up act for a House panel on Thursday featuring under-fire BP CEO Tony Hayward.
McKay is likely to being interrogated about BP's expected, and often lucrative dividend payment to shareholders.
The Obama administration has argued that before rewarding its stock holders, BP should compensate everyone on the Gulf coast whose lifestyle is threatened by the oil spill.
BP shares plunged more than nine percent on Monday as investors fretted over the spiraling cost of the spill crisis and the future of the dividend.
McKay will also likely be asked to shed light on the notion of a BP funded escrow account under independent administration that would be used to speed compensation payments, demanded by US law, to those who need them.
Obama said on Monday that he hoped to get some kind of agreement on the structure of the fund by the time he meets BP's chairman Carl-Henric Svanberg at the White House on Wednesday.
Key lawmakers on Monday accused BP of taking dangerous "shortcuts" in the days and hours before the blast on the Deepwater Horizon rig in April that killed 11 workers.
"BP appears to have made multiple decisions for economic reasons that increased the danger of a catastrophic well failure," Representatives Henry Waxman and Bart Stupak said in a letter to Hayward.
"If this is what happened, BP's carelessness and complacency have inflicted a heavy toll on the Gulf, its inhabitants, and the workers on the rig," they wrote.
McKay will also be asked for data on BP's efforts to plug the gushing well, and exactly how much oil it is siphoning to the surface after putting a containment cap on the ruptured well.
The company is currently siphoning up about 15,000 barrels of oil a day to a ship on the surface, about half the amount believed to be still streaming into the Gulf from the ruptured wellhead.