President Barack Obama has given fateful orders likely to send thousands more troops to Afghanistan in a political gamble meant to forge an eventual US exit from a costly and gruelling war.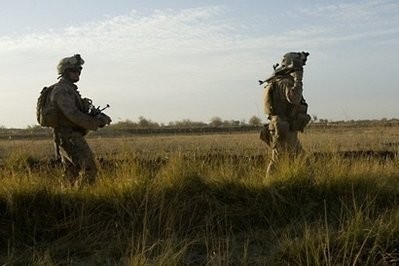 US Marines of 2nd Battalion 2 Marines of 2nd Marine Expeditionary Brigade search for improvised explosive devices (IEDs) in Mian Poshteh in Helmand Province in Afghanistan on November 27. (AFP Photo)
"The commander in chief has issued the orders," White House spokesman Robert Gibbs said Monday, as Obama briefed world leaders of his new Afghan strategy, a day before making a major televised address to the American people.
The plan emerged from an exhaustive policy review amid extreme weariness of the war among Americans, and as supporters warned Obama could be risking his presidency by deploying thousands more men to a Vietnam-style quagmire.
Obama is expected to order between 30,000 and 35,000 more troops to bolster the US effort to repel a resurgent Taliban, secure major cities and fast-track training for Afghan security forces, alongside a separate civilian aid surge.
The president will also assure Americans and regional leaders he will not underwrite an indefinite and costly stay in Afghanistan for US troops.
"This is not an open-ended commitment," Gibbs said, painting the plan as an eventual pathway for US troops to come home.
"We are there to partner with the Afghans, to train the Afghan national security forces, the army and the police, so that they can provide security for their country and wage a battle against an unpopular insurgency."
The White House said Obama delivered orders marking the most crucial leadership test of his presidency in the Oval Office so far, on Sunday, after telling top aides of his final decision.
He met generals and top security aides in the Oval Office.
He then spoke directly by secure video-link to Afghan war commander General Stanley McChrystal, who warned earlier this year the conflict would be lost without more troops -- and US ambassador to Kabul Karl Eikenberry.
Obama will address Americans in a major televised speech to cadets at the US Military Academy at West Point at 8:00 pm Tuesday (0100 GMT Wednesday).
He will tell a nation weary of years of conflict and humbled by the worst economic crisis in generations, why it must risk yet more lives and wealth in a war launched after the September 11 attacks in 2001.
His message will be compelling listening for voters, lawmakers and soldiers, US allies, leaders in Pakistan and Afghanistan, and Taliban and Al-Qaeda insurgents battling Washington in a bloody eight-year war.
Many of Obama's core political supporters, and key Democrats worried about ballooning budget deficits, are wary of more troop deployments. Republicans have however demanded the president answer the generals' calls for more help.
As he launched a public relations offensive to market the new strategy, Obama called French President Nicolas Sarkozy and Russian President Dmitry Medvedev on Monday.
A secure video link-up with Gordon Brown was also planned, after the British prime minister announced he would increase British regular troop numbers by 500 to 9,500 in December.
Obama will also talk to Pakistani President Asif Ali Zardari and Afghan President Hamid Karzai, who both will be key players in the new strategy.
Asked why Obama was informing world leaders of his plans before telling the American people, Gibbs said that the president would not go into specifics on troop numbers but needed to consult valued US foreign partners.
Intense consultations with key players in Congress, where some majority Democrats have expressed skepticism about new troop deployments, were taking place on Monday and Tuesday, Gibbs said.
Some 35,000 American soldiers were fighting the Taliban-led insurgency when Obama took office. After an initial boost in February there are now about 68,000.
More than 900 American soldiers have lost their lives in Afghanistan and October was the deadliest month since the start of the war in 2001 with 74 US soldiers killed.
The wars in Afghanistan and Iraq have cost 768.8 billion dollars and by the end of this fiscal year (October 2010) the price tag will approach one trillion.
Obama Sunday spoke to Secretary of State Hillary Clinton by telephone, then met Defense Secretary Robert Gates; Admiral Mike Mullen, chairman of the joint chiefs of staff; General James Cartwright, the vice chairman of the joint chiefs; White House chief of staff Rahm Emanuel and General David Petraeus, head of US central command.