WASHINGTON, April 16, 2011 (AFP) - Bruised by a grueling battle with his foes in Congress, President Barack Obama sought Saturday to reassure his Democratic base this week as he unveiled a budget strategy with an eye to the 2012 race.
In his weekly radio address, the president took a new swipe at the Republican plan, saying it would give $1 trillion in tax breaks to the wealthiest two percent of Americans.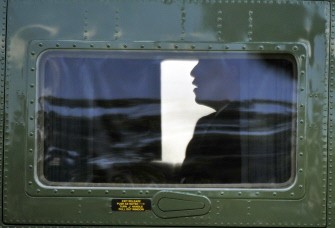 AFP - US President Barack Obama is seen through the window of Marine One helicopter as he returns at the White House in Washington, DC, on April 15, 2011.
"I don't think that's right," he said. "I don't think it's right to ask seniors to pay thousands more for health care, or ask students to postpone college, just so we don't have to ask those who have prospered so much in this land of opportunity to give back a little more."
A last-minute deal struck with Republicans still fired up by their huge electoral gains in November mid-term elections averted a potentially devastating government shutdown.
But getting there meant Obama had to accept budget cuts that by his own admission were "painful," including on some of his landmark initiatives.
A plan to fund high-speed rail and get the beleaguered US train system on par with that of allies in places like Europe and Japan was axed, while the Environmental Protection Agency saw 15 percent cuts in its budget under the agreement, which is supposed to save $38.5 billion this year.
Obama's concessions raised concerns among the liberal wing of his Democratic Party who are worried about the fate of government health insurance programs for the elderly (Medicare) and the poor (Medicaid).
They recalled another presidential cave-in following the Republican victory in November, when Obama reversed himself and agreed to an extension of tax breaks for the wealth that had been enacted under George W. Bush.
Democratic lawmakers, including former House Speaker Nancy Pelosi, made no secret of their frustration. And this week, nearly 105,000 people signed a petition from a group called Bold Progressives with a stark warning for Obama, who this month launched is campaign for re-election.
"President Obama: If you cut Medicare and Medicaid benefits for me, my parents, my grandparents or families like mine, don't ask for a penny of my money or an hour of my time in 2012," it read.
"I'm going to focus on electing bold progressive candidates -- not Democrats who help Republicans make harmful cuts to key programs."
On Wednesday, Obama took an offensive tack against the Republicans' 2012 budget proposal, while acknowledging that "any serious plan to tackle our deficit will require us to put everything on the table."
But he said: "There's nothing serious about a plan that claims to reduce the deficit by spending a trillion dollars on tax cuts for millionaires and billionaires."
Calling the proposal "a vision of our future that is deeply pessimistic," he renewed his vow to fight further Republican attempts to extend tax breaks for the wealthy.
Leftist television host and political commentator Rachel Maddow reacted more warmly to the latest statements than others in recent months, praising the "unexpectedly satisfying speech."
In an editorial, The New York Times agreed that "the man America elected president has re-emerged."
Beyond his staunchest supporters, to whom he vowed similar campaign promises ahead of fresh battles with Republicans, Obama also wants to convince Americans that he is on the right side of history, according to Thomas Mann of The Brookings Institution.
"Republicans are likely to take the debt ceiling and 2012 budget hostage to strengthen their hand," said Mann. "They are less likely to overplay their hand if they come to believe they will be punished by voters if they do so."