US President Barack Obama and his French counterpart discussed ways to bring Iran "into compliance" with UN resolutions on its nuclear program ahead of diplomatic talks, the White House said.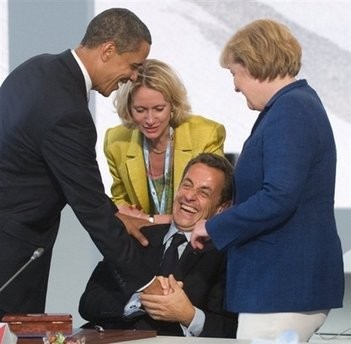 US President Barack Obama (L), French President Nicolas Sarkozy (C) and German Chancellor Angela Merkel joke during the Group of Eight summit in Italy in July. (AFP Photo)
"The two leaders discussed the status of diplomatic efforts to bring Iran into compliance with its international obligations on its nuclear program," a statement said after Obama spoke by telephone Tuesday with French President Nicolas Sarkozy.
The call came ahead of an October 1 meeting between Iran and the United States, Russia, China, Britain, France and Germany set to test Tehran's readiness to discuss concerns over its nuclear program, which Western governments and Israel suspect is a cover to build an atomic bomb.