U.S. President Barack Obama braced the country for more bad economic news on Thursday, saying second-quarter GDP figures would show the economy contracted and job losses were still a "huge" problem.
Obama, speaking to reporters in the Oval Office after a meeting with Philippine President Gloria Macapagal Arroyo, said the U.S. credit and banking systems had settled down -- a sign the economy had stepped away from a dangerous ledge.
Obama said he had not seen the gross domestic product figures to be released on Friday but he referred to a consensus by economists that the U.S. economy had seen a "significant slowing down of the contraction over the last several months."
Although job losses were way too high, they were not proceeding at the pace that was seen at the beginning of the year, he said.
"I suspect that the GDP numbers will still show that the economy contracted in the second quarter (and) that job loss is still a huge problem," Obama said.
"We're not going to rest until we have seen not just a technical improvement in GDP, but until the American people's job prospects, their incomes have rebounded. And that's going to take some time," he said.
A Reuters poll of economists showed a median forecast of a 1.5 percent contraction in the U.S. economy in the second quarter, on a seasonally adjusted annualized basis.
That compares with a more dramatic 5.5 percent contraction recorded for the first quarter.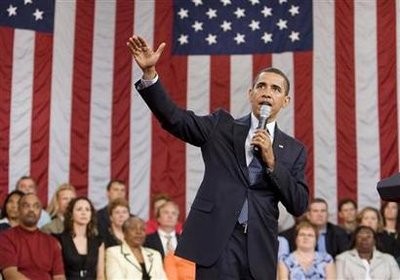 President Obama holds a town hall meeting about healthcare at the Broughton High School in Raleigh, North Carolina, July 29
Obama said some improvements in recent months had quieted fears the United States could slide into another Great Depression. Housing prices, for example, went up for the first time in three years, he said.
"The credit system, the banking system, the financial markets generally have settled down. You're not seeing the huge volatility or panic that you were seeing," Obama said.
"All of that is a sign that we have stepped away from the precipice."
With his poll numbers faltering, Obama has made a point in recent days of defending his economic policies and reminding the American public that his administration had helped pull the country out of a crisis he inherited when he took over as president in January.
"As (Federal Reserve Chairman) Ben Bernanke and others across the ideological spectrum have indicated, we were in a position where we could have gone into a Great Depression," Obama said. "I think those fears have abated."