US President Barack Obama said on a surprise visit to Iraq that the next 18 months would be "critical," and told the war-torn country that it would soon have to look after itself.
Obama, who has called for an end to US combat operations in Iraq by August next year, also pledged he would stick to a timetable for all American troops to leave the country by the end of 2011.
"It is time for us to transfer (control) to the Iraqis," Obama told an audience of US troops soon after flying in to Baghdad aboard Air Force One on his first trip to Iraq since taking office three months ago.
"They need to take responsibility for their country," he said. "This is going to be a critical period, these next 18 months."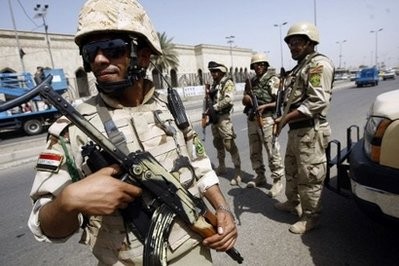 Iraqi soldiers patrol central Baghdad. A spate of bloody car bombings rocked mainly Shiite districts of Iraq's capital killing at least 34 people in what the US military said appeared to be coordinated attacks by Al-Qaeda.(
The US president's trip came two days before the sixth anniversary of the fall of Baghdad in the US-led invasion that toppled Saddam Hussein, but amid a spate of recent attacks that have killed dozens and wounded hundreds more.
Obama was immediately rushed off to meet General Ray Odierno, the top US army commander in Iraq at the start of his short visit. The pair discussed the planned drawdown of troops and general elections due at the end of 2009.
The president was mobbed by ecstatic US soldiers during his previously unannounced trip, many of whom eagerly shook hands with him and captured the moment on their digital cameras.
In February, Obama announced a new strategy that will see most combat troops withdraw from Iraq by August 2010, although a force of up to 50,000 will remain until the end of the following year.
Under a military accord signed between Baghdad and Washington last November, all American troops will leave by the end of 2011.
The US president also appealed for differences between "various factions" in Iraq to be resolved.
"It's absolutely critical that all Iraqis are integrated into the government and security forces," Obama said, alluding to the Sahwa or "Awakening" fighters who were commissioned to help US forces fight Al-Qaeda in Iraq.
Violence has fallen dramatically since the Sahwa, mostly former Sunni insurgents, allied with US forces against Al-Qaeda in late 2006 as more American troops poured into the country under Bush's "surge" strategy.
But the past few weeks have witnessed a rise in violence.
A string of car bombings in mainly Shiite districts of Baghdad on Monday killed at least 34 people in what the US military said appeared to be coordinated attacks by Al-Qaeda. A further eight died in another attack in the capital before Obama's arrival on Tuesday.
Maliki has blamed the recent attacks on Al-Qaeda and supporters of Saddam's now banned Baath party.
The US military also laid the blame on Al-Qaeda.
The United States will stick to its timetable for pulling troops out of Iraq despite the recent rise violence, US Vice President Joe Biden said as Obama visited Baghdad.
"I'm not worried about that at all. We will draw down along the timeline we suggested," Biden said in an interview with CNN, asked if an upsurge in attacks blamed on Al-Qaeda might derail the US timetable.
Although it was his first trip to Iraq as president, Obama visited the country last year when he was a candidate for the White House.
He also met Iraqi President Jalal Talabani during Tuesday's trip before flying out again shortly after 9 pm (1800 GMT).
Obama, who opposed the invasion of Iraq ordered by his predecessor George W. Bush, has used his debut overseas tour to reach out to the Islamic world and attempt to restore America's battered image abroad.
Ending the war which sparked an insurgency that cost thousands of lives would mark a new era of US diplomacy including "principled and sustained engagement" with Iraq's neighbours Iran and Syria, Obama has said.
Bush was the last US president to visit Iraq in a trip overshadowed by a local journalist who hurled his shoes at him.
Iraqi TV reporter Muntazer al-Zaidi gained global fame and was seen as hero in much of the Arab world for his farewell gesture to a deeply unpopular president.
He was jailed last month for three years by a Baghdad court, but the sentence was cut on Tuesday to one year by an appeals tribunal.