US President Barack Obama is willing to visit the nuclear-bombed cities of Hiroshima and Nagasaki while in office but won't go there during a Japan trip this week, he said in an NHK TV interview Tuesday.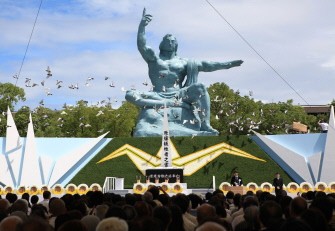 Doves fly around the statue at the peace memorial park in Nagasaki during the ceremony of 64th anniversary of atomic bomb attack into the city by the US Army. (AFP Photo)
"The memories of Hiroshima and Nagasaki are etched in the minds of the world, and I would be honoured to have the opportunity to visit those cities at some point during my presidency," Obama said in an exclusive interview.
Obama would become the first US president in office to visit the Japanese cities which the United States attacked with atomic bombs in the final days of World War II, killing over 200,000 people and leading to Japan's surrender.
The US president, who has promoted the goal of a world free of nuclear weapons, visits Japan on Friday and Saturday as part of an Asia tour.
He told Japan's national broadcaster that "unfortunately I can't visit this time because my schedule was so compressed."