President Barack Obama flew into the millionaire's playground of Martha's Vineyard Sunday, seeking respite from a gathering political storm on his first vacation since taking power.
After seven months battling the worst economic crisis in decades, and with uncertainty clouding his ambitious agenda, Obama arrived on the well-heeled East Coast island with wife Michelle and daughters Malia, 11 and Sasha, 8.
The political brushfires of Washington were but a nagging memory as star-struck onlookers lined roads and held up welcoming signs as the presidential motorcade swept by en route to Obama's rented vacation mansion.
Treading in the famous presidential footsteps of John F. Kennedy and Bill Clinton in vacationing on the island, Obama is seeking a rare week away from the political spotlight, White House deputy press secretary Bill Burton said.
"Nobody's looking to make any news," Burton said.
Obama's week-long stay, at a mansion called Blue Heron Farm in the rural town of Chilmark, was delayed by several hours before forecasters lifted tropical storm warnings after Hurricane Bill churned up the eastern Seaboard.
Burton also passed on a specific request from Obama to reporters and photographers to respect the privacy of his daughters on vacation when they venture outside without their high-profile parents.
And he said there were no current plans for the president to travel to the Kennedy compound in nearby Hyannis Port, where Senator Edward Kennedy is current battling brain cancer.
Burton also scotched another rumor, that Obama, who has taken to golf with a passion since being elected president, could tee off with Tiger Woods on the coastal island, a favorite of Hollywood stars and the political aristocracy.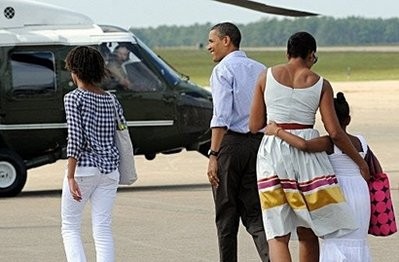 US President Barack Obama, First Lady Michelle Obama and their daughters Malia and Sasha walk to board the Marine One helicopter
Famous devotees of Martha's Vineyard include Ted Danson from "Cheers" and film director Spike Lee. The island is also awash with rumors that Chelsea Clinton may be planning a top secret wedding here as well.
With his top priority healthcare reform drive facing mounting opposition, Obama is likely to make some calls to lawmakers to prepare the battleground for a fierce fight when Congress returns in September.
On Sunday, lawmakers took to the airwaves to call on Obama to cut back on the size of the plan to offer health insurance to all Americans.
"I would advise the president that bringing up of the healthcare situation in the midst of recession... was a mistake," said Senator Richard Lugar, a Republican, on CNN's State of the Union talk show.
Joseph Lieberman, an independent senator who normally votes with Democrats, also called on Obama to slow down.
"I think it's a real mistake to try to jam through the total health insurance reform, healthcare reform plan that the public is either opposed to or of very, very passionate mixed minds about," Lieberman told CNN.
Obama faces a stew of pressing political problems apart from healthcare, including the ballooning budget deficit, mounting troop deaths and instability in Afghanistan, and Iran's nuclear challenge to name just a few.
Martha's Vineyard has long been a holiday spot for political powerhouse families, including the Kennedys and the Clintons, and prides itself on quietly receiving celebrities and power brokers without a fuss.
But even "Hollywood East," as the island is sometimes called, is a little excited by Obama's arrival.
"It's all over the news," said vacationer Robin Howell, 39. "It's like Obamamania. Everyone is talking about him being in Massachusetts."
Mocha Mott's, a coffee shop with two locations on the island, rolled out a new variation on the store's traditional iced mocha, called a "mochabama."
Barista Gillian MacLeod chuckled as she explained the concept, cooked up by Mocha Mott's owner Tim Dobel.
The whipped cream-topped espresso drink is "some kind of statement about a post-racial society in which we have the dark chocolate syrup and the white chocolate syrup coming together in this one drink," she told AFP.