CHICAGO, Aug 4, 2011 (AFP) - President Barack Obama on Wednesday sought to revive the energy of his last presidential campaign after a damaging debt showdown as he returned to his hometown Chicago for a 50th birthday bash.
Obama paid a lightning evening visit back to the Midwestern metropolis one day before he hits the half-century mark, seeking solace with some of his staunchest supporters from online activists to high-rolling fund-raisers.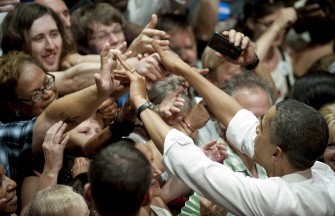 AFP - US President Barack Obama (R) shakes hands with the crowd at the Aragon Ballroom in Chicago, Illinios, August 3, 2011 after speaking for a fundraiser
Inside a packed and sweaty downtown theater, Obama read off a list of accomplishments dear to his base such as expanding health care coverage, allowing gays to serve openly in the military and winding down the war in Iraq.
"I didn't say change we can believe in tomorrow. I didn't say change we can believe in next week," he said, echoing his campaign slogan. "We've got to make our case."
The 2012 election "in some ways may be more important than the last one," Obama said in an Internet conference with some 1,100 support groups around the country, one of three back-to-back campaign events in Chicago.
"You saw this week how tough some of these battles are going to be. It's absolutely critical that all of you stay involved," he said.
Supporters sang "Happy Birthday" to Obama and crowds cheered on his motorcade as it swept through Chicago on a breezy summer night. But protesters also pressed him, holding signs urging him to end deportations of illegal immigrants.
Obama, who ordered the secret raid that killed Osama bin Laden, boasted to the crowd that "we've got Al-Qaeda on the run." But he added: "Our foreign policy can't just be about war; it's also got to be about peace."
"It's got to be about respecting human rights all around the world and making sure that America continues to be a beacon of hope," he said, calling such ideals "part of the unfinished business of this administration."
Obama, who skyrocketed from obscurity to the presidency in a matter of several years thanks to grassroots activists and the Internet, last week slipped to a low of 40 percent approval in a Gallup poll.
Obama reached a last-minute deal with Republicans on Sunday that avoided a potentially devastating first-ever default of the US debt, but upset many of his core supporters through its provisions for up to $2.5 trillion in spending cuts.
Half of the House members of his Democratic Party voted against the package, which Obama reached after the Republican Party's arch-conservative Tea Party movement held firm against any taxes.
Obama described the debt saga as a "self-inflicted wound," and said it showed a fundamental difference in priorities between him and the Republicans.
"I give the other side credit. They are single-minded in their focus in wanting to cut programs and shrink government," Obama said.
But he defended the debt package as "responsible," and said the debate energized him.
"I think this episode was just a severe example of what's been going on for quite some time and it's part of what led me to run for president," he said.
Oscar-winning actress and singer Jennifer Hudson worked up the crowd to welcome Obama, where large banners saying 2012 -- in virtually the same design as that of his 2008 campaign -- hung by the stage.
Some 1,700 people paid at least $50 to be part of the campaign-style rally. Obama then headed to a more exclusive part of the same Aragon theater for a $35,800-a-plate dinner with some 100 donors.
Aides said that Obama would also make a bus tour through unemployment-riddled Midwestern states later this month that could help decide his increasingly complicated bid for re-election.
The president got little comfort from a new round of data from payrolls firm ADP showing private sector jobs growth had slowed to 114,000 positions in July, from 145,000 in June.
Other recent figures pointing to stalling growth have challenged Obama's campaign argument that he has stabilized an economy once in deep crisis.
Republicans, scenting blood in the wake of the debt showdown, were already on the attack over the fund-raising swing.
The party mocked the president's repeated vows to tackle the unemployment crisis and charged he could hardly wait for the end of the debt storm to settle before throwing political punches.
"Tonight, Obama gets back to the job he really loves: fundraiser-on-chief," said a sarcastic Republican National Committee press release.