High foreign hopes for Barack Obama will jar with political reality in the form of the US president's frayed domestic standing this week, at the G20 summit in Pittsburgh and at the United Nations.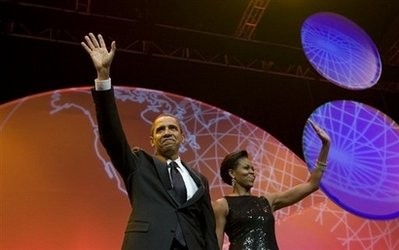 US President Barack Obama and First Lady Michelle Obama wave at an awards gala in Washington, DC. (AFP Photo)
The G20 meeting, from Thursday, marks Obama's debut as the host of a major international summit, so he will be seeking to distill his popularity abroad and political charisma into a position of true global authority.
But Obama will meet fellow leaders of developed and developing nations, bruised by eight months of combat over his ambitious agenda in Washington's corrosive political jungle.
Things were so different in April, when Obama debuted on the world stage at the last G20 summit in London, riding a wave of euphoria following his historic inauguration and with domestic approval ratings of more than 60 percent.
Just four months on, with his popularity pummeled by the battle over his landmark health care reform drive, Obama is clinging to majority approval in Gallup's daily tracking poll with 51 percent.
Many of Obama's top priorities -- including climate change legislation and financial regulatory reform on which G20 partners are demanding action -- are facing heavy weather in Congress.
"The challenge for President Obama is to create an environment where the US is not only seen as having an attractive leader, but the US is seen as setting an agenda which the world is willingly following," said Jon Alterman of the Center for Strategic and International Studies.
Global leaders are watching the health care debate to see if Obama is in command or "can be defied with impunity," said Alterman.
The G20 summit comes in a frenetic week of international diplomacy, which could have lasting implications for Obama's global stature, also including the UN General Assembly in New York.
Obama aides argue that he has transformed the image of the United States abroad following the transatlantic schisms of George W. Bush's presidency, a view backed up by recent polling.
But there is little evidence so far that he has changed the paradigm of festering global conflicts.
For example, his administration has so far been unable to get Israelis and Palestinians to agree to open peace talks -- despite intense diplomacy.
Iran meanwhile has met Obama's open hand with a clenched fist, as a crucial moment approaches in the nuclear showdown with the Islamic Republic, with talks between Tehran and world powers looming on October 1.
Just last week, Obama imposed duties on Chinese tire imports, stoking new fears of US protectionism.
And with the Afghan war's unpopularity among Americans catching up with public opposition in Europe, Obama will soon face a lonely decision on whether to deploy more US troops.
Laying the groundwork for the G20, Obama said Saturday in his weekly radio address, that leaders must end the "reckless risk-taking and irresponsibility" in global finance that sparked the worst economic crisis in decades.
But despite the tough talk, the US position seems set to fall short of European demands for sanctions against finance firms that lavish multi-million dollar bonuses on employees.
This may be another case of foreign hopes outpacing Obama's capacity to forge domestic change, as lawmakers may water down his own regulatory reforms and he has accused Wall Street lobbyists of trying to kill them off altogether.
Obama may also be at odds with deficit-conscious Asian and European leaders whose nations have already escaped recession and want to wind up massive stimulus spending.
As G20 summit host, Obama has the chance to stamp his authority on the agenda, but aides are already cautioning against expectations of eye-catching "deliverables."
"This is not a trillion dollar summit, we do not expect major announcements of new significant financial commitments," said Mike Froman, Obama's deputy national security advisor for international economic affairs.
The G20 venue in the economically regenerating former steel town of Pittsburgh, Pennsylvania is symbolic, and a reminder of political calculations at play within Obama's administration.
Pennsylvania, a mix of post-industrial cities and rural up-state conservative and working class regions, was the state which effectively pushed Obama past the winning post in his historic 2008 presidential election victory.
It will do him no harm to be seen leading the global fight for recovery in a state he hopes will help push him to a repeat win in the 2012 election.