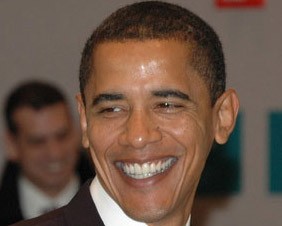 US President Barack Obama
WASHINGTON, Aug 8, 2009 (AFP) - US President Barack Obama said Saturday he saw movement toward "a broad consensus" on health care reform and blasted politicians, who, in his words, use "outlandish" rumors in an attempt to block his proposals.
"We are moving toward a broad consensus on reform," Obama said in his weekly radio address. "Four committees in Congress have produced legislation - an unprecedented level of agreement on a difficult and complex challenge."
The president wants Congress to approve his health care reform proposals by the end of the year in order to fulfill one of his key campaign promises -- providing health care to the 46 million Americans, some 15 percent of the population, who currently do not have any medical coverage.
Obama's health care plan includes a government insurance option, which has been fiercely criticized by Republicans.
The US president also hopes to cut in half runaway healthcare expenditures which, if unchecked, are forecast to gobble up one-fifth of US gross domestic product by 2013.
But he has met increasing resistance from both Republicans and even some among his own Democratic Party worried about the costs of such a reform.
In his address, Obama noted that foes of the reform were resorting to misleading information in the hopes of blocking its passage.
"And let me start by dispelling the outlandish rumors that reform will promote euthanasia, cut Medicaid, or bring about a government takeover of health care," the president said. "That's simply not true."
He also said his reform was not about putting government in charge of health insurance, but rather about putting people in charge of their health care plans.
According to the president, those focused on the so-called politics of health care were trying to exploit differences or concerns for political gain. "But let's never forget that this isn't about politics. This is about people's lives," Obama pointed out.