US President Barack Obama announced he was pouring 30,000 more troops into Afghanistan, vowing to "seize the initiative" to end the unpopular war and start a pullout in July 2011.
In a major speech unveiling a new fast-track war strategy, Obama pledged for the first time that US forces would start coming home in 19 months, as he groped for an exit from a conflict many backers see as a Vietnam-style quagmire.
"Afghanistan is not lost, but for several years, it has moved backwards," Obama said, placing a bet that more forces could defeat Al-Qaeda, crush a resurgent Taliban, and pave the way for a withdrawal.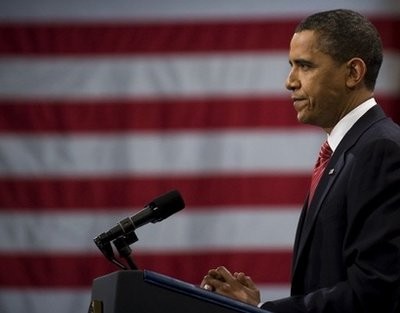 US President Barack Obama talks on the US military mission in Afghanistan at the United States Military Academy at West Point in New York on December 1.
The speech, before cadets at the US Military Academy at West Point who will fight Obama's war, marked his biggest test yet as president, and best opportunity to redefine the conflict.
But while he set a date for the start of a US withdrawal, he stopped short of establishing a deadline to complete the mission launched more than eight years ago following the September 11, 2001 attacks.Facts: NATO, US troops
"As commander in chief, I have determined that it is in our vital national interests to send an additional 30,000 troops to Afghanistan," Obama said.
"After 18 months, our troops will begin to come home," he said, seeking to reassure Americans the new plan would not signal a war without end, and rejecting the comparison with Vietnam as a "false reading of history."
The first US Marines could be in place by Christmas, just four months after war commander General Stanley McChrystal warned the war could be lost without more manpower. All the new troops will be fighting within six months.
McChrystal hailed the new strategy, saying it gave him "a clear military mission and the resources to accomplish our task."
"The clarity, commitment and resolve outlined in the president?s address are critical steps toward bringing security to Afghanistan and eliminating terrorist safe havens that threaten regional and global security," he said.
Obama also increased pressure on NATO allies for more troops, saying they were also threatened by Afghan-based terrorism.Analysis: Few Afghan options
Following an exhaustive strategy review, Obama rolled out new political approaches to Afghanistan and Pakistan and vowed to chase down Al-Qaeda wherever it emerged.
He warned the Afghan government of President Hamid Karzai, that the days of a US "blank check" were over, demanding a drive against corruption.
The White House said a key element of the political strategy would be support for Afghan efforts to reintegrate Taliban members who renounce Al-Qaeda, lay down their arms and enter politics.
The same "cancer" of extremism that had torn at Afghanistan was also hurting Pakistan, Obama warned, crediting Islamabad with an unprecedented effort to combat home-grown extremism.
"We will act with the full recognition that our success in Afghanistan is inextricably linked to our partnership with Pakistan," Obama said.
French President Nicolas Sarkozy called the new strategy courageous and urged "all countries which want to help the Afghan people to support it."
Obama cautioned that strikes against America were "being plotted as I speak," and warned he would go after Osama bin Laden's terror group in Somalia or Yemen or further afield if necessary.Related article: Bagram Airbase is US nerve centre in Afghanistan
As many of Obama's Democratic allies balk at the cost of the new troop surge, the US leader warned the new Afghan war operations would cost 30 billion dollars this year.
But in a swipe at the former Bush administration, blamed for not paying for conflicts in Afghanistan and Iraq, he said he would be open and honest in financing the operation.
Republican Senate Minority Leader Mitch McConnell, one of Obama's fiercest critics in the US Congress, praised the new "surge of forces" and said it would help "reverse the momentum of the Taliban."
But others bluntly dissented. "I do not support the president's decision to send additional troops to fight a war in Afghanistan that is no longer in our national security interest," said Democratic Senator Russell Feingold.
In Kabul, the Afghan government "welcomes the new strategy," foreign ministry spokesman Mohammad Zahir Faqiri told AFP.
And US ambassador Karl Eikenberry, who was reportedly opposed to the build-up of US troops, said that Obama's decision provides "clarity and focus" to the US mission in Afghanistan.
"My team and I will energetically implement this strategy in closest possible partnership" with the Afghan people, government, the NATO-run force in Afghanistan, UN mission and other international partners, Eikenberry said.
Japan also welcomed Obama's troop announcement, reiterated a pledge of five billion dollars in aid to help rebuild Afghanistan.
In Brussels, NATO Secretary General Anders Fogh Rasmussen said he was confident members of the transatlantic alliance would make a "substantial" increase in their commitments.Related article: NATO reax
NATO foreign ministers will be meeting in Brussels on Friday to discuss Afghanistan, where more than 40 countries have troops.