US President Barack Obama heads this weekend on his first-ever visit to China in a bid to pursue a top, if abstract, goal -- reassuring the rising power that Washington wants to be its partner, not rival.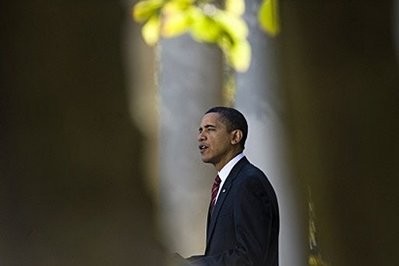 US President Barack Obama makes a statement from the Rose Garden of the White House in Washington, DC, upon his return from Camp David. (AFP Photo)
Obama tours China between visits to key US allies Japan and South Korea and a regional summit in Singapore.
But China is likely to steal the show, with Obama planning stops both in Beijing and Shanghai featuring some of his trademark public outreach.
Some environmentalists hope that Obama can hammer out a deal on climate change ahead of next month's high-stakes Copenhagen summit. But the visit's most important message might be symbolic.
Since taking office in January, Obama has pursued a broad drive to expand ties between the world's largest developed and developing countries on issues from tackling climate change to restoring global economic growth.
Policymakers see the approach as a nod to hard-nosed reality with China extending its global reach and now holding some 700 billion dollars -- more than any other country -- in the ballooning US debt.
Deputy Secretary of State Jim Steinberg has called the Obama administration's approach to China "strategic reassurance" -- a new Washington buzzword that may have triggered more questions than answers.
Kurt Campbell, the assistant secretary of state for East Asia, showed himself keenly aware of history, saying he saw the role of reassurances when Britain handed over global stewardship to the United States a century ago.
"Even in the easiest circumstances, this is a very difficult proposition and one that will take years and patience,"Campbell said at the Council on Foreign Relations.
While stressing he did not see the United States as in decline, Campbell said it was inevitable that a growing China would challenge US interests -- and that the two nations must therefore find ways to work with each other.
"I think those efforts to date have been insufficient and much more needs to be done over the course of the next several years that will increase ... understanding between the two sides," Campbell said.
China experts are closely watching whether Obama utters "strategic reassurance" -- a successor to the George W. Bush administration's catchphase that China should be a "responsible stakeholder" -- and how he explains it.
"At this point it is not completely clear exactly what the term means and also how the Chinese view it," said Ken Lieberthal, a senior fellow at the Brookings Institution who crafted China policy under president Bill Clinton.
But Obama's remarks in China are unlikely to go heavy on the theoretical.
Jeffrey Bader, the top White House aide on East Asia, said that Obama will find opportunities to mingle with ordinary people and tap into his popularity in the world's most populous nation.
"I personally believe there is no one better at this. We saw this in 2008, with the campaign, what his communication skills are with ordinary people as opposed to officials," Bader said.
China is nonetheless organizing a lavish state dinner for Obama. It will be Obama's first visit to mainland China in his life, although he has a half-brother who lives in the southern city of Shenzhen and a brother-in-law of Chinese descent.