US intelligence missed "red flags" in the Arabian peninsula that could have disrupted a plot to blow up a US-bound plane, President Barack Obama said vowing to stop future lapses.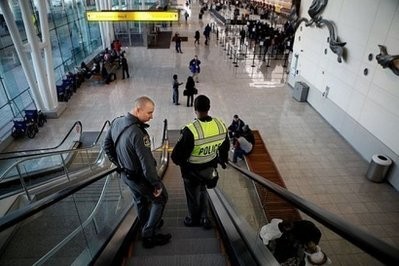 Maryland Transportation Authority Police patrol the terminal at Baltimore Washington International Airport in Baltimore, Maryland. (AFP Photo)
"It is increasingly clear that intelligence was not fully analyzed or fully leveraged," Obama said Tuesday in a terse televised statement. "That's not acceptable, and I will not tolerate it."
He was speaking after meeting with US spy chiefs and top national security aides at the White House to discuss two probes into the attempt to blow up an airliner with 290 people aboard as it approached Detroit on December 25.
"The bottom line is this: the US government had sufficient information to have uncovered this plot and potentially disrupt the Christmas Day attack, but our intelligence community failed to connect those dots," Obama said.
"When a suspected terrorist is able to board a plane with explosives on Christmas Day, the system has failed in a potentially disastrous way," he said.
US intelligence missed other "red flags" that Al-Qaeda in the Arabian Peninsula (AQAP) was plotting to attack US targets both in Yemen and the United States itself, he said.
Obama added that the agencies had information that AQAP was working with Umar Farouk Abdulmutallab, the 23-year-old Nigerian who boarded a Northwest Airlines flight in Amsterdam with a valid US visa and allegedly tried to bring down the plane down.
Sanaa has been under increasing pressure in recent days to deal with the Al-Qaeda cell in the country which has claimed to be behind the plot to blow up the plane.
AQAP has also urged attacks on Western interests in Yemen.
US Director of National Intelligence Dennis Blair said he and others embraced the president's stern message to tighten up US intelligence operations.
"We can and we must outthink, outwork and defeat the enemy's new ideas," Blair said in a statement.
"The intelligence community will do that as directed by the president."
The US embassy in Yemen reopened Tuesday after a two-day closure prompted by fears of an attack as US Secretary of State Hillary Clinton warned unrest in the country was a threat to global stability.
The embassy said on its website that Yemeni security forces had addressed a "specific area of concern" north of the capital Sanaa on Monday, paving the way for the reopening.
The French embassy in Sanaa reopened Wednesday after its own two-day closure, while the British embassy also reopened but consular services remained closed.
Investigations spanning from west Africa to Europe to the Middle East have been trying to piece together the would-be bomber's whereabouts and actions leading up to the botched Christmas Day attack in which the explosives failed to detonate properly.
Dutch prosecutors said Tuesday Abdulmutallab had probably obtained the explosives before he arrived at Amsterdam's Schiphol airport where he boarded the US-bound flight.
The White House said earlier he had been providing useful leads during his interrogations by the Federal Bureau of Investigation as he awaits his arraignment Friday in Detroit.
The United States has unleashed a barrage of measures to stop would-be attackers riding planes into the country, overhauling its terror watchlists and adding dozens more suspects to "no-fly" lists.
Further boosting security measures, all travelers coming from or via 14 "terror linked" countries will have to undergo compulsory enhanced screening.
US officials also revealed that "additional visas" had been revoked since the Christmas Day attempt, but gave no details of how many or which countries the applicants were from.
Nigeria, one of the 14 countries on the security list, on Tuesday protested the new rules. "I made it clear, through the US ambassador, to the US government that this is unacceptable to Nigeria," Foreign Minister Ojo Maduekwe told journalists.
EU security experts will meet Thursday in Brussels to discuss the new travel measures, amid privacy and health concerns over broader use of full body scanners.
Obama said, meanwhile, it had been decided not to transfer any more Guantanamo Bay prisoners to Yemen for now due to the "unsettled situation" there.
"But make no mistake. We will close Guantanamo prison, which has damaged our national security interests and become a tremendous recruiting tool for Al-Qaeda," Obama said.